Teaching
Short Teaching Module: Race, Gender, and Transnational Histories of Solidarity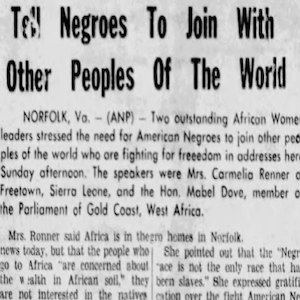 Overview
Studying transnational histories of solidarity among women of African descent reveals new dimensions of global political and social movements through the intersection of race and gender. Where nationalist narratives of progress acknowledge Black women's various challenges to social, political, and economic oppression, this framing often obscures the connections people made between their experiences at home and those of global communities abroad. Approaches to recovering these historical connections include biography, attending to local activism as well as overlapping movement building. In these spaces, the activities, ideas, and networks they established across borders offers a more expansive understanding of collective challenges to interlocking systems of global oppression.
Primary Sources

"Tell Negroes To Join With Other Peoples Of The World"

Annotation

An article in the Alabama Tribune reported on the visit of two West African women leaders, Mabel Dove from Ghana and Carmela Renner from Sierra Leone. The women leaders were hosted by the Norfolk chapter of the National Council of Negro Women. Here, they made connections between the struggle for national independence in Africa and civil rights in the States as part of a broader fight for freedom and equality for Black people everywhere. It is important to note that their 1956 visit preceded the celebrated wave of national independence that would sweep the continent in the coming years; therefore, highlighting Black women leaders' contributions to shared movement building that flourished in the late 1950s and 1960s.

This source is part of the race, gender, and transnational histories of solidarity teaching module.

Letter to Council Women

Annotation

In a 1960 letter, fourth national president of the National Council of Negro Women Dorothy Height reports back to the Council on her trip to Sierra Leone. She served as both participant and facilitator in what she described as the first meeting of West African women including Sierra Leone, Nigeria, Ghana, and Liberia. The women leaders discussed their experiences at home, shared organizing strategies, and overall, aimed to build community across borders. As women across west Africa prepared for national independence, they solicited support from women in neighboring countries and abroad to redefine their roles, for themselves, in emerging societies. This event was a precursor to the larger first Conference of Women of Africa and African Descent held in July 1960 in Accra, Ghana.

This source is part of the race, gender, and transnational histories of solidarity teaching module.
Credits

Yatta Kiazolu is a University of California President's Postdoctoral Fellow in the Department of Ethnic Studies at UC San Diego. She received her PhD in History from UCLA with research interests including Contemporary Africa and African Diaspora Studies, African American history, and Women and Gender studies.
How to Cite This Source
"Short Teaching Module: Race, Gender, and Transnational Histories of Solidarity," in World History Commons, https://worldhistorycommons.org/short-teaching-module-race-gender-and-transnational-histories-solidarity [accessed March 30, 2023]