Teaching
Short Teaching Module: Portraying Women Workers: Beyond Norma Rae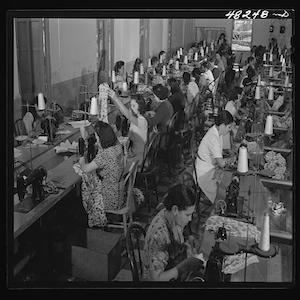 Overview
Starting at the turn of the twentieth century, U.S. and insular government offices and textile and garment businesses incorporated women of the New South and Puerto Rico into manufacturing in distinct yet interrelated ways. Despite these complexities, Crystal Lee Sutton, a mill hand and union member in North Carolina, became the focus of media attention in the early 1970s. She was the basis for the movie Norma Rae (1979). Instead of itemizing the film's inaccuracies, this module describes how to study the larger historical context, analyze why and how a particular popular culture television show or movie was made, and why it erased or highlighted certain people or details. 
Essay

When reviewers and students look at historical realities next to popular culture representations, they tend to get stuck in a side-by-side comparison. They want to itemize the inaccuracies and the imaginary characters, events, and dialogue. For students, the realization that television shows and movies are not exact history can be a revelation that launches them into intellectual, and even personal, reassessments. It is a crucial step, because most people are not scholars and acquire their understanding of world history through popular media—but it is just a first step. Next steps lead to deeper questions that examine why and how, out of the entire rich historical context, certain popular media were made. Who was involved, who funded the television show or movie and how, why were some people represented and others were not, what larger global complexities were obscured or lost? 

Pursuit of these answers depends on the analysis of active intersections of gender, race, class, ethnicity, and citizenship in three areas: the broad topic, including the people and occurrences that provided a content basis for the commercial media; the production participants and processes; and the ultimate popular representation with its evident creative choices. Studying the full history, from the larger context through media production to the final product, leads to insights about what has been erased, distorted, or transmitted by these cultural creations in the nexus of capitalist production. It also offers important insights regarding the power relationships in culture industries, with their business of show, that work to construct popular notions and meanings for society. 

I developed this approach because I was interested in women and global labor history and curious why many people had misunderstandings, gaps, and simplistic notions about women workers across time. The approach rests on the premise that women workers around the world struggled not only in the workplace, but also in cultural contests over their stories and representations of their labor and organizing—even in major popular media. I adapted a theoretical framework developed by Pierre Bourdieu called the field of cultural production (Bourdieu 1993). He emphasizes the role of status, and its correlation to different forms of capital, in the field of cultural production, where contributors collaborate and fight over the creation and distribution of fine art. I, however, use the framework to study television and movies where social and cultural capital, as well as economic capital, all play a part in who participates, their roles, and what benefits they gain from the commercial media. 

This approach opens the study of popular culture to include women workers as contributors to creative processes, not only as formal employees of a studio or film crew. When I dig into a new project, I start with women workers in a global industry that has appeared in a major popular representation, like the movie Norma Rae (1979). It tells the story of a white mill hand, mother, and wife in the South as she becomes active in a labor union in the 1970s. In the opening scenes, Norma shows her feisty behavior both on the job and at home with her two young children and her parents, who also work in the mill. When Reuben, a leftist Jewish intellectual organizer with the Textile Workers Union of America (TWUA), arrives in town, Norma's father tells him to leave, but she is intrigued. Reuben becomes her mentor, directing her sass into purposeful labor activism. This activism causes tensions between Norma and her new husband, Sonny, who she married because they promised to be caring parents for her two children and his daughter. Despite harassment by management, including Norma's termination, the majority of mill hands vote to certify the TWUA. 

In my initial research about the movie, I learned it was based on Crystal Lee Sutton, in Roanoke Rapids, North Carolina, from 1973 to 1974. After ten years of an interracial membership drive, the TWUA had gained momentum, and Sutton joined and became very active. The tendency is to compare her life to the movie, but films about the past cannot possibly capture the span of relevant details and nuances in two hours. I wanted to understand why this screenplay was made and why this way, so I expanded my research to the broader history, which covers the U.S. textile and apparel industry. 

The research revealed that, starting at the turn of the twentieth century, U.S. and insular government offices and textile and garment businesses incorporated women of the New South and Puerto Rico into manufacturing in distinct yet interrelated ways. The 1901-1902 Charleston Exposition, coordinated by and for the cotton industry to foster economic ties between the South, Northeast, and Caribbean, is emblematic of this history. It shows the way labor market manipulations by elites in the metropole and on the main island constructed simultaneous gendered, racialized, and colonial labor options for industries. In these fluctuating options, southern mill hands and Puerto Rican needleworkers were not supposed to know each other, but they were connected, if not equivalent, workers in an industry that was crucial to the nation's global political, military, and economic ambitions. 

Puerto Rican needleworkers moved to New York City and New England into the 1970s because recruiters paid them; they followed factories that relocated for cheaper real estate; or they knew family and friends who had jobs. Although many pundits had declared the industry "dead" in the Northeast by the 1960s, it was still alive for women coming from Puerto Rico. The pay was lower than it had been for unionized white workers in the 1950s, but higher than it was in the archipelago, which Congress had exempted from the federal minimum wage. 

Despite these complexities, a cultural fascination with poor white southerners led media in the early 1970s to focus on Sutton. My detailed study of Norma Rae shows how popular culture works to rearticulate familiar ideas and obscure colonial complexities due to its own reliance on gendered, racialized, and nationalized narratives. Hollywood professionals used legal and financial mechanisms to remove Sutton from the movie production when her insistence on the collective effort of diverse workers did not suit their commercial ambitions. I reveal the importance of capitalist mechanisms, like contract law and insurance, in the arena of cultural politics, especially regarding questions of who contests and shapes the visibility and meanings for "worker" and "working class." Norma Rae recycled the narrative of the American working class as tough, white individuals in isolated factories, a narrative that helped to erase Puerto Rican needleworkers and the long history of globalization. 

It is not enough to study southern mill hands, or Puerto Rican needleworkers, or the popular images of these women. We must look at them all together. To understand what is going on—to understand shifting twentieth-century global working conditions—we have to study a wide expanse. And to understand why it is difficult to see these dynamics, it is necessary to study working people as part of the cultural politics of labor, as well as part of industrial manufacturing and the union movement.  
Primary Sources

Puerto Rican Needleworkers in a Factory, San Juan, Puerto Rico, 1942

Annotation

This government photograph provides an important contrast to the popular culture images of poor southern whites. During the 1940s and 1950s, U.S. government agencies hired photographers to travel the main island of Puerto Rico to capture the conditions of working people. This photo was taken at a "good factory" subsidized by the U.S. government to serve mainland manufacturers. The photographer would have taken contrasting photos of women doing piece work in rural shacks and dingy sweatshops to show "bad exploitation." The intention was to celebrate the modernization of colonial labor. Women like these in San Juan produced textiles and apparel for U.S. companies, and many joined the International Ladies' Garment Workers' Union (ILGWU) and migrated to the Northeast for the better pay and public education. Puerto Rican needleworkers on the island and in New York City and New England did a range of labor, including floorgirl, reeling and winding of yarn or thread, weaving, cloth loading, cutting patterns, sewing machine operation for all types of apparel and home goods, hemming and finishing edges, basic and fine embroidery, and packing. They also told their stories in union newspapers and oral history projects to assert their own narrative of the American working class. These official photos, however, remained in offices for business and trade or archives for scholars, and did not reach popular media. Meanwhile, television shows like The Real McCoys (1957-1962) and movies like God's Little Acre (1958) and Norma Rae (1979) presented southern white workers as part of the American working class.

This source is part of the women workers in film teaching module.

Brochure for the South Carolina Inter-State and West Indian Exposition / Charleston Exposition, 1901-1902

Annotation

This is the cover for a pamphlet to promote the Charleston Exposition and recruit exhibitors and attendees from along the entire U.S. Atlantic, which ran from New England to Florida to Cuba and Puerto Rico. It is an effective visual representation of how cotton growers and textile and apparel producers envisioned the U.S. Atlantic as a coherent market for labor and trade, even if the parts were differentiated. In 1899, a group of South Carolina businessmen set out to coordinate this exposition for the cotton industry. Their objective was not a world's fair. They wanted to foster economic ties along the U.S. Atlantic for textiles, apparel, and home goods. Multiple pamphlets and editions of a promotional magazine invited politicians and textile, garment, and hosiery companies to exhibit and to attend the exposition. The magazine included updates from the West Indian Commissioner, who traveled to Puerto Rico to visit Ponce, Yauco, and San Juan, where he met with the Chamber of Commerce.

This source is part of the women workers in film teaching module.

Norma Rae: Depicting Women's Labor History through Film

Annotation

In this still shot from the movie Norma Rae, two pretty and petite white actors represent southern mill hands. Norma, portrayed by the famous actress Sally Field, stands with her mother (Barbara Baxley). Even though Sutton worked in the put-up department as a gift-set operator, arranging fancy towels in boxes, the director and writer placed Norma in a weaving room on the stereotypical cotton looms. Like Puerto Rican needleworkers, southern mill hands did reeling and winding of yarn or thread, weaving, cloth loading, shearing, hemming and finishing edges, trimming loose fabric off finished items, and folding items for retail packaging. In addition, many southern women, including Sutton, trained as sewing machine operators and worked in apparel factories, not just textile and home goods mills.

The Norma Rae costumers, two creative professionals from Hollywood, selected the clothing for all actors, even the extras who were local residents. They gave their staff directions to make clothing appear more worn by using bleach and sandpaper.

This particular movie creation was not inevitable, but rather the result of two conditions. The first was the dominant cultural narrative of the American working class as white industrial workers in isolated gritty factories. The second was the ongoing contest between Sutton, the director, the producers, and their attorneys. Although Sutton was eventually removed from the production, she forced the director to change the character names and title, and after the movie was released, she capitalized and contested its success by presenting herself as "the real Norma Rae" for public speaking and other labor events.

This source is part of the women workers in film teaching module.
Bibliography

Ayala, César J. and Rafael Bernabe. Puerto Rico in the American Century: A History Since 1898. Chapel Hill: University of North Carolina Press, 2007. 

Barker, Deborah. American Cinema and the Southern Imaginary. Athens: University of Georgia Press, 

2011. 

Benmayor, Rina, Ana Juarbe, Celia Alvarez, and Blanca Vázquez, Oral History Task Force. Stories to Live By: Continuity and Change in Three Generations of Puerto Rican Women. New York: Centro de Estudios Puertorriqueños, 1987. 

Borda, Jennifer. Women Labor Activists in the Movies: Nine Depictions of Workplace Organizers, 1954-2005. New York: McFarland, 2010. 

Bourdieu, Pierre. The Field of Cultural Production: Essays on Art and Literature, edited by Randal Johnson. New York: Columbia University Press, 1993. 

Collins, Jane L. Threads: Gender, Labor, and Power in the Global Apparel Industry. Chicago: University of Chicago Press, 2003. 

Denning, Michael. The Cultural Front: The Laboring of American Culture in the Twentieth Century. London: Verso, 1996. 

Korrol, Virginia E. Sánchez. From Colonia to Community: The History of Puerto Ricans in New York City. Berkeley: University of California Press, 1994. 

Leifermann, Henry P. Crystal Lee: A Woman of Inheritance. New York: MacMillan, 1975. 

Matthews, Scott L. Capturing the South: Imagining America's Most Documented Region. Chapel Hill: University of North Carolina Press, 2018. 

Minchin, Timothy. "Don't Sleep with Stevens!": The J.P. Stevens Campaign and the Struggle to Organize the South, 1963-1980. Gainesville: University Press of Florida, 2005. 

Ortiz, Altagracia, ed. Puerto Rican Women and Work: Bridges in Transnational Labor. Philadelphia: Temple University Press, 1996. 

Thompson, Lanny. Imperial Archipelago: Representation and Rule in the Insular Territories Under US Dominion After 1898. Honolulu: University of Hawai'i Press, 2010. 

Whalen, Carmen Teresa. "Sweatshops Here and There: The Garment Industry, Latinas, and Labor Migrations." International Labor and Working Class History 61 (Spr 2002): 45-68. 

Filmography: 

God's Little Acre. Director Anthony Mann. Security Pictures, 1958. 

Harlan County, U.S.A. Producer and Director Barbara Kopple. Cabin Creek Productions, 1976. 

Matewan. Director John Sayles. Cinecom Entertainment Group, 1987. 

Norma Rae. Director Martin Ritt. Twentieth Century-Fox, 1979. 

North Country. Director Niki Caro. Warner Bros., 2005. 

Salt of the Earth. Director Herbert Biberman. Independent Productions Corporation/ International Union of Mine, Mill, and Smelter Workers, 1954. 

Silkwood. Director Mike Nichols. Twentieth Century-Fox, 1983. 

West Side Story. Directors Jerome Robbins and Robert Wise. The Mirisch Corporation and Seven Arts Productions, 1961. 

¡Yo Soy Boricua, Pa'que Tu Lo Sepas! Director Rosie Perez. Moxie Firecracker Films and IFC, 2006. 
Credits

Aimee Loiselle is an assistant professor of history at Central Connecticut State University. She studies the modern United States as a hub for transnational labor and capital with an interest in women workers, gender, race, and migration. Her scholarship also examines how popular culture obscures these complexities. Her current project Creating Norma Rae: Cultural Contests over the American Working Class, 1970s-1980s analyzes the movie Norma Rae (1979) in relation to southern and Puerto Rican women in the textile and garment industry, and their efforts to control representations of their work and organizing. She received the 2020 Lerner-Scott Prize from the Organization of American Historians and Catherine Prelinger Award from the Coordinating Council for Women in History. 

Twitter @LoiselleAim 
How to Cite This Source
"Short Teaching Module: Portraying Women Workers: Beyond Norma Rae ," in World History Commons, https://worldhistorycommons.org/short-teaching-module-portraying-women-workers-beyond-norma-rae [accessed December 5, 2023]