Primary Source
Norma Rae: Depicting Women's Labor History through Film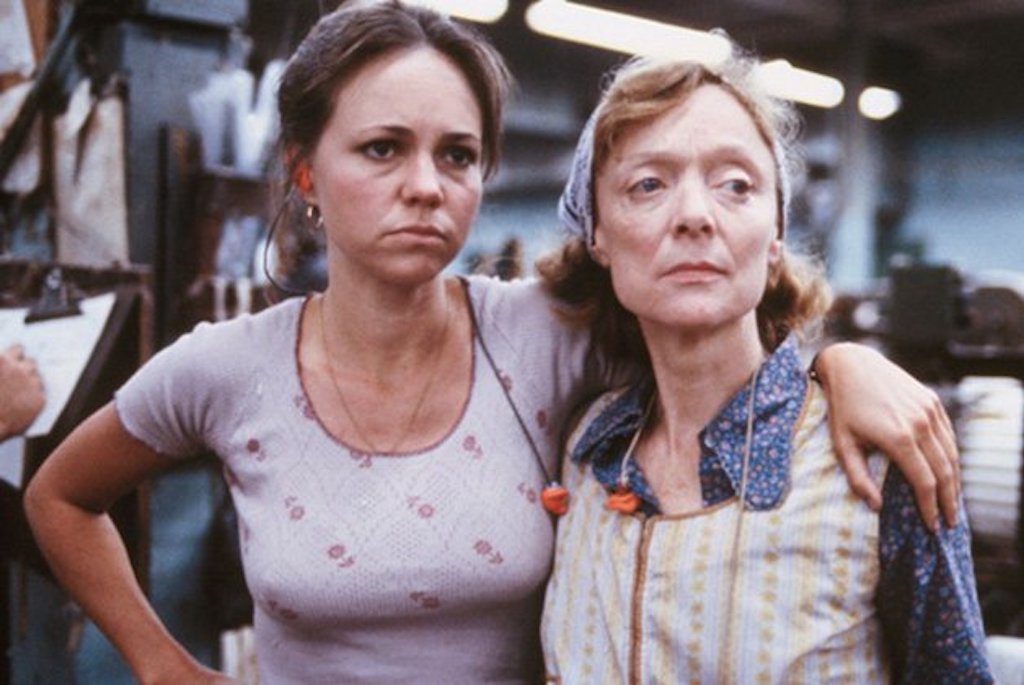 Annotation
In this still shot from the movie Norma Rae, two pretty and petite white actors represent southern mill hands. Norma, portrayed by the famous actress Sally Field, stands with her mother (Barbara Baxley). Even though Sutton worked in the put-up department as a gift-set operator, arranging fancy towels in boxes, the director and writer placed Norma in a weaving room on the stereotypical cotton looms. Like Puerto Rican needleworkers, southern mill hands did reeling and winding of yarn or thread, weaving, cloth loading, shearing, hemming and finishing edges, trimming loose fabric off finished items, and folding items for retail packaging. In addition, many southern women, including Sutton, trained as sewing machine operators and worked in apparel factories, not just textile and home goods mills. 
The Norma Rae costumers, two creative professionals from Hollywood, selected the clothing for all actors, even the extras who were local residents. They gave their staff directions to make clothing appear more worn by using bleach and sandpaper.  
This particular movie creation was not inevitable, but rather the result of two conditions. The first was the dominant cultural narrative of the American working class as white industrial workers in isolated gritty factories. The second was the ongoing contest between Sutton, the director, the producers, and their attorneys. Although Sutton was eventually removed from the production, she forced the director to change the character names and title, and after the movie was released, she capitalized and contested its success by presenting herself as "the real Norma Rae" for public speaking and other labor events. 
This source is part of the women workers in film teaching module. 
Credits

"The 5 best Sally Field performances," Now Toronto, Nov 8, 2012 

https://nowtoronto.com/the-5-best-sally-field-performances 

Photo courtesy of Norma Rae (1979) 
How to Cite This Source
"Norma Rae: Depicting Women's Labor History through Film ," in World History Commons, https://worldhistorycommons.org/norma-rae-depicting-womens-labor-history-through-film [accessed October 2, 2023]