Primary Source
Ship Plan of a Late-19th Century Steamship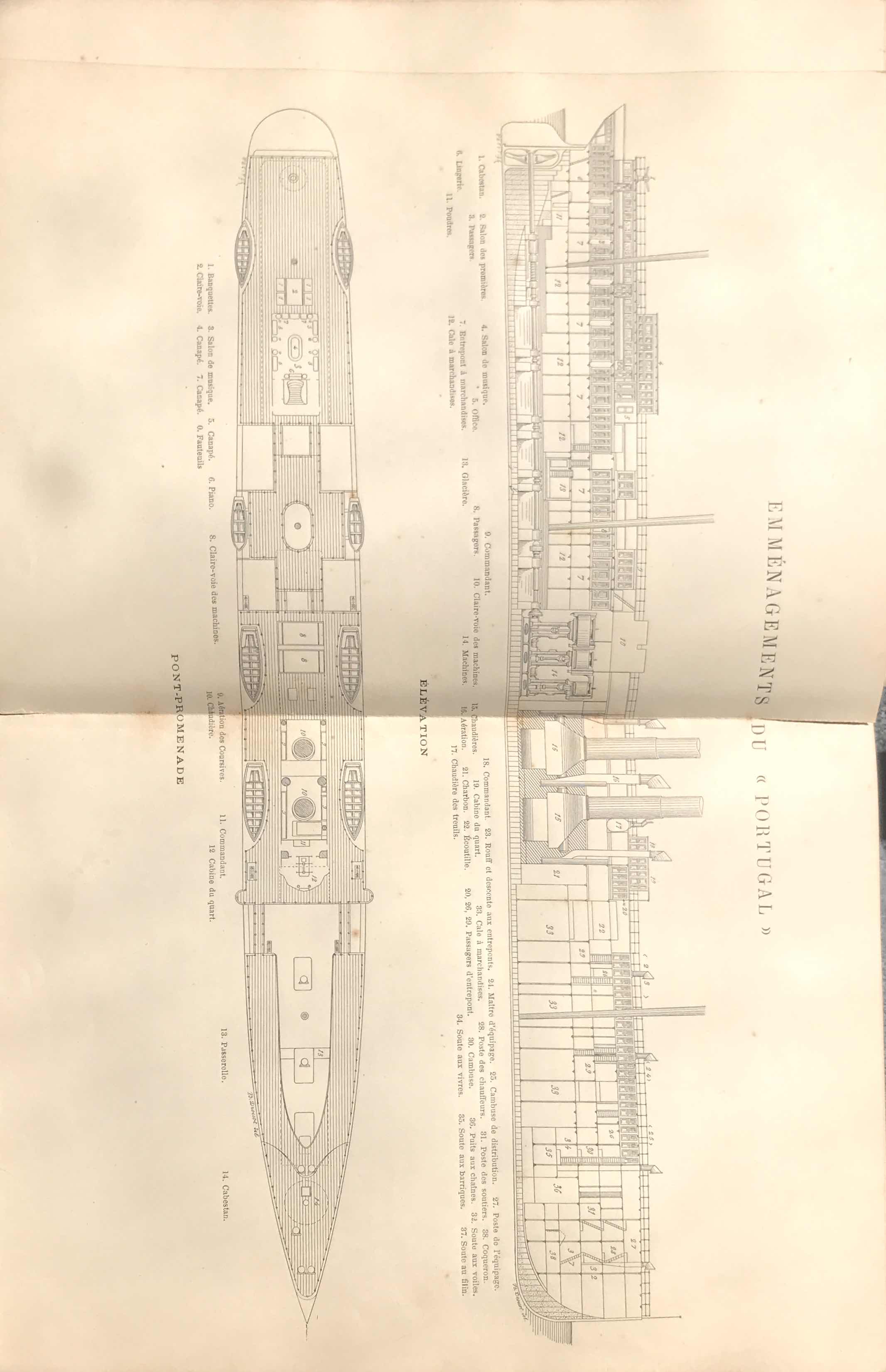 Annotation
This ship plan from the late-19th century offers a partial view of spatial arrangements within a Messageries steamship. The diagram comes from a book of commercial publicity and imperial propaganda written by a Messageries ship-captain, Louis Tillier, and a famous journalist, novelist, and veteran of French colonial wars, Paul Bonnetain.
Steamships heading "beyond Suez" intertwined the paths and aspirations of military men and bureaucrats, entrepreneurs and entertainers, tourists, servants, and migrants, men, women, and children, animals and cargo, convicts, and the mentally and physically ill – not to mention the maritime laborers who kept the entire operation running. In dividing these groups into intricate social and spatial orders, shipboard authorities had a complex job cut out for them. To varying degrees, passengers were divided by class, gender, age, race, profession, rank, and health. These groups might have different food regimes, cabins, and levels of access to the deck. Every time that a ship began a layover, moreover, the question of who could disembark meant that these hierarchies had to be rearranged. Finally, the collection of beating hearts aboard the ship included animals kept onboard for dairy, meat, and labor (or as cargo), which had to be maintained in their own pens, well away from some human dwellings, though all too close to others. 
Compounding this immense labor of categorizing passengers and keeping them within their boundaries, liners were sites of postal service, coaling, and the herculean task of cargo shipping before containerization (passenger liners often earned half their revenue from cargo). Indeed, on the return trip alone of a busy Marseille-Shanghai voyage in 1880, no fewer than 52,657 packages entered and exited a ship like the one pictured here – and that was excluding commercial cargo. To approximate the composition of such ships today, imagine combining a container ship, makeshift migrant boats, a touristic cruise-liner, a military transport, a coal plant, and a barn; then packing them all into one vessel and sending it out to sea for months at a time.  
Credits

"Emménagements du 'Portugal'" ["accommodations of the 'Portugal'], in L. Tillier and P. Bonnetain, Histoire d'un paquebot [Story of a Steamship] (Paris: Maison Quantin, 1887).
How to Cite This Source
"Ship Plan of a Late-19th Century Steamship," in World History Commons, https://worldhistorycommons.org/ship-plan-late-19th-century-steamship [accessed May 26, 2023]