Teaching
Long Teaching Module: Women and Empire
Overview
This teaching cluster assembles an array of primary and secondary sources, as well as teaching strategies and lesson plans, for educators to effectively teach the important roles women played in colonial and imperial projects from the 17th century to the 20th century. Surveying how women interacted with imperial landscapes, both as colonizers and as colonized persons, this cluster explores women around the world in the British, Dutch, French, and Spanish Empires. The stories of colonialism and imperialism are often dominated by adult men and historical writings often reflect this male-centric perspective. These sources provide a means to highlight how women were intimately connected with imperial and colonial projects alongside men and how women played crucial roles in the development and maintenance of empires.
Essay
Each of the four long teaching modules that comprise this teaching cluster include an informational essay on the module's topic, a number of primary sources (48 in total for this teaching cluster), teaching strategies for each module's content, a lesson plan to teach each module's content, document based questions relating to each module's primary sources, and a bibliography for further readings on each subject.
The cluster's first module, Doña Marina, Cortés' Translator, is a case study that focuses on a specific woman in the Spanish Empire, Doña Marina. From 1519 to 1526, Doña Marina provided an invaluable service to Hernán Cortés and the Spanish Conquistadors by acting as their translator. Focusing on this singular historical figure, this teaching module explores the shifting meaning of Doña Marina (also known as Malintzin and Malinche) and how people perceived her actions and life from the 16th to the 20th century. This module allows students to evaluate a variety of different primary sources on a singular person and to explore the complex role this woman had in the beginning of the Spanish Empire in Latin America.
The second module, Women in the British Empire, 1800-2000, takes a broader approach by examining the importance of women to the British Empire from 1800 to 2000. Rather than a singular person, this module highlights the significant role British women, and women from British colonies, played in shaping the British Empire and the perceptions of Britain's imperial power to its domestic audience. Like other European empires, British women were always outnumbered by British men in the empire. Despite this demographic imbalance, this module highlights how British women filled a variety of important roles in the imperial apparatus. Additionally, this module explores how colonized women engaged with the British Empire and how these women maneuvered through a complicated landscape.
The third module, North African Women and the French Empire, 1850-2000, focuses on colonized women, namely North African women, and the French Empire from 1850 to 2000. Concentrating on the North African States of Algeria, Tunisia, and Morocco, this module explores French imperialism in North Africa and the repercussions French imperialism had for the indigenous women of these three states. This module focuses on the lives of several individual women to articulate the varied responses to imperialism and as a means to dispel many of the negative perceptions about women and gender in Arab and Muslim countries.
The last module, Cultural Contact in Southern Africa, examines the cultural contact between the Dutch Empire and the indigenous populations of Southern Africa, principally the Khoikhoi. This module explores the lives of European, Khoikhoi, and slave women in 17th century Southern Africa and summarizes the main issues affecting the women of each group. While the sources from this period are all written by Europeans and overwhelmingly by European men, the source material provides students with opportunities to investigate the historical groups of people that do not have their known written, historical record.
Primary Sources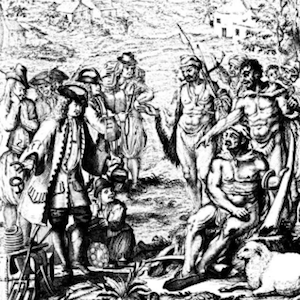 Annotation:
Peter Kolb was a German astronomer and mathematician who lived at the Cape from 1705 to 1713. He was initially sponsored by a German baron to make astronomical observations in pursuit of a way to calculate longitude accurately. When this project ended, Kolb stayed at the Cape and observed everything else. Kolb was writing for a European audience, and therefore often played to their expectations. In the case of the Khoikhoi, the assumption was that these people were among the most primitive on earth. Thus, his work had to be used with caution when trying to reconstruct the early history of the Khoikhoi. On the other hand, when Kolb's observations are compared with those of modern anthropologists, significant overlaps may be found, so that it seems clear that Kolb spoke directly to Khoikhoi men and women about their beliefs and customs. In the following excerpts, Kolb discusses Khoikhoi practices during and after the birth of a child. Ask yourself how, as a European man, Kolb could have seen or heard about these rituals. Nevertheless, his account cannot be simply discounted, since it is known that Khoikhoi did consider water risky for expectant mothers and newborn infants, and cattle played major and significant roles in the economy and rituals of traditional Khoikhoi society.
This source is a part of the Women and Empire teaching module.
Credits
Raymond Hyser is a PhD student in history at the University of Texas at Austin. He focuses on environmental history and the history of science within trans-imperial spaces during the nineteenth century with special interest in world history and digital humanities. His current research traces the agricultural knowledge networks of coffee cultivation between the West Indies and South Asia. This teaching module was originally developed for the World History Commons.
How to Cite This Source
Raymond Hyser
Long Teaching Module: Women and Empire
in World History Commons,