Primary Source
Disinfection of Dakar houses with a Clayton Apparatus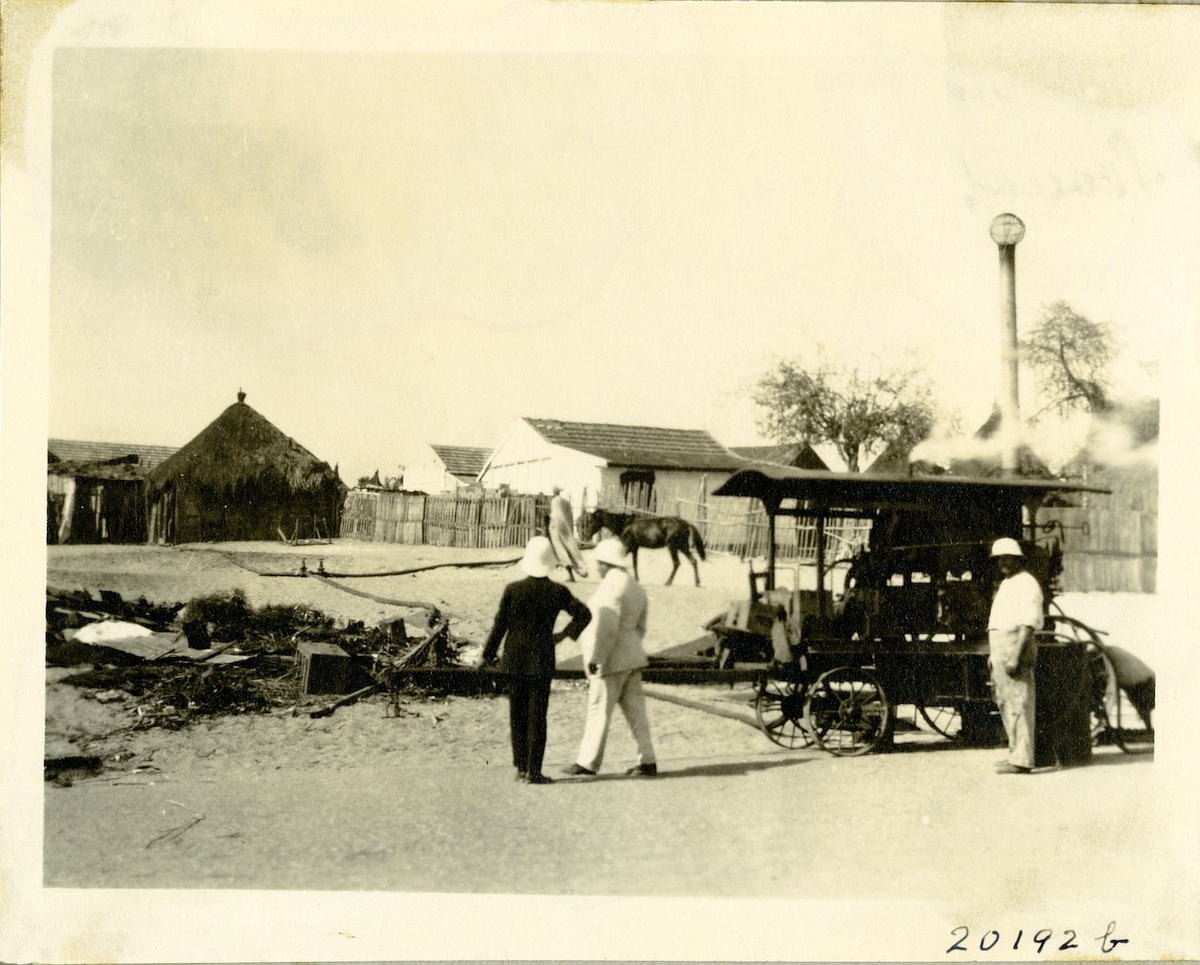 Annotation
This is a photograph from the collections of the Rockefeller Archive Center depicting a Clayton apparatus disinfecting African houses during the yellow fever outbreak of 1927. The image illustrates a number of transnational linkages that shaped the epidemic. Clayton apparatuses were steam disinfection devices that used sulphuric gases to destroy pathogens in infected homes. They were originally designed to disinfect ships, and were used in port cities such as New Orleans, Hong Kong and Saigon during outbreaks of the plague and of yellow fever. Disinfection could be extremely unpleasant for the inhabitants of infected houses and often, when sulphuric disinfection was not possible, French authorities would simply burn infected houses to the ground, providing meager indemnities in return. Many of these draconian measures were developed in French Indochina during plague outbreaks in the 1890s, and imported to West Africa as part of a colonial public health toolkit.
It is also remarkable that this photo was taken by someone working for the Rockefeller Foundation. In the 1920s, the Rockefeller Foundation's International Health Division sought to set up a yellow fever research station in West Africa, where the disease was endemic. The IHD surveyed several possible sites: in French West Africa, Sierra Leone, and British Nigeria. They received a cool welcome from the French, who saw the IHD as a competitor to their own Pasteur Institute. The IHD ultimately established its field site in Nigeria, working with British authorities, and becoming a direct competitor with the Pasteur Institute. The yellow fever pandemic was shaped both by dynamics within the French empire and by interimperial competition.
This source is part of the teaching module on transnational effort to control yellow fever. 
Credits

Photograph via the Rockefeller Archive Center 
How to Cite This Source
"Disinfection of Dakar houses with a Clayton Apparatus ," in World History Commons, https://worldhistorycommons.org/disinfection-dakar-houses-clayton-apparatus [accessed September 27, 2023]