Primary Source
Chinese Troops during the Xinhai Revolution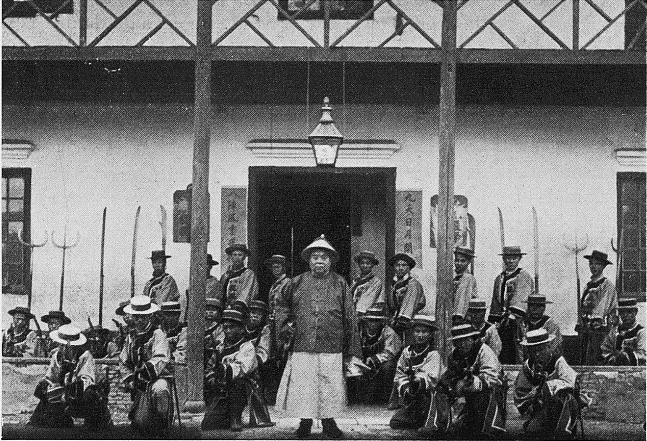 Annotation
Image of Chinese troops dispatched by the Shanghai daotai of the collapsing Qing Dynasty to protect Xujiahui during the Xinhai Revolution. In contrast to earlier political crises during the treaty port era, French police or troops were not sent in to Chinese territory in November 1911, in part because the change of regime had been so rapid, but also because the French did not want to alienate the revolutionaries, who repeatedly claimed that they posed no threat to foreigners. Questions for students: Why would Chinese officials send troops, in the middle of a revolution, to defend the lives and interests of foreigners, who were primarily able to acquire those interests as a result of imperialist aggression? What do the clothing and weaponry of the troops show about foreign technological and cultural influences in China at that time?
This source is part of the colonialism and local power teaching module. 
Credits

Bibliothèque nationale de France, département Philosophie, histoire, sciences de l'homme, 4-O2N-1339, ark:/12148/bpt6k5808097q Annotation by Steven Pieragastini. Pieragastini is a Lecturer in History at Whittier College. He received his PhD in History from Brandeis University in February 2017. His book manuscript based on his dissertation focuses on the history of the Catholic Church in modern China and its relationship with the Chinese State. He has also published on the history of universities in Shanghai and the intersection of imperial projects in China's borderland regions.
How to Cite This Source
"Chinese Troops during the Xinhai Revolution," in World History Commons, https://worldhistorycommons.org/chinese-troops-during-xinhai-revolution [accessed January 29, 2023]