Primary Source
Birth Rituals in the Codex Mendoza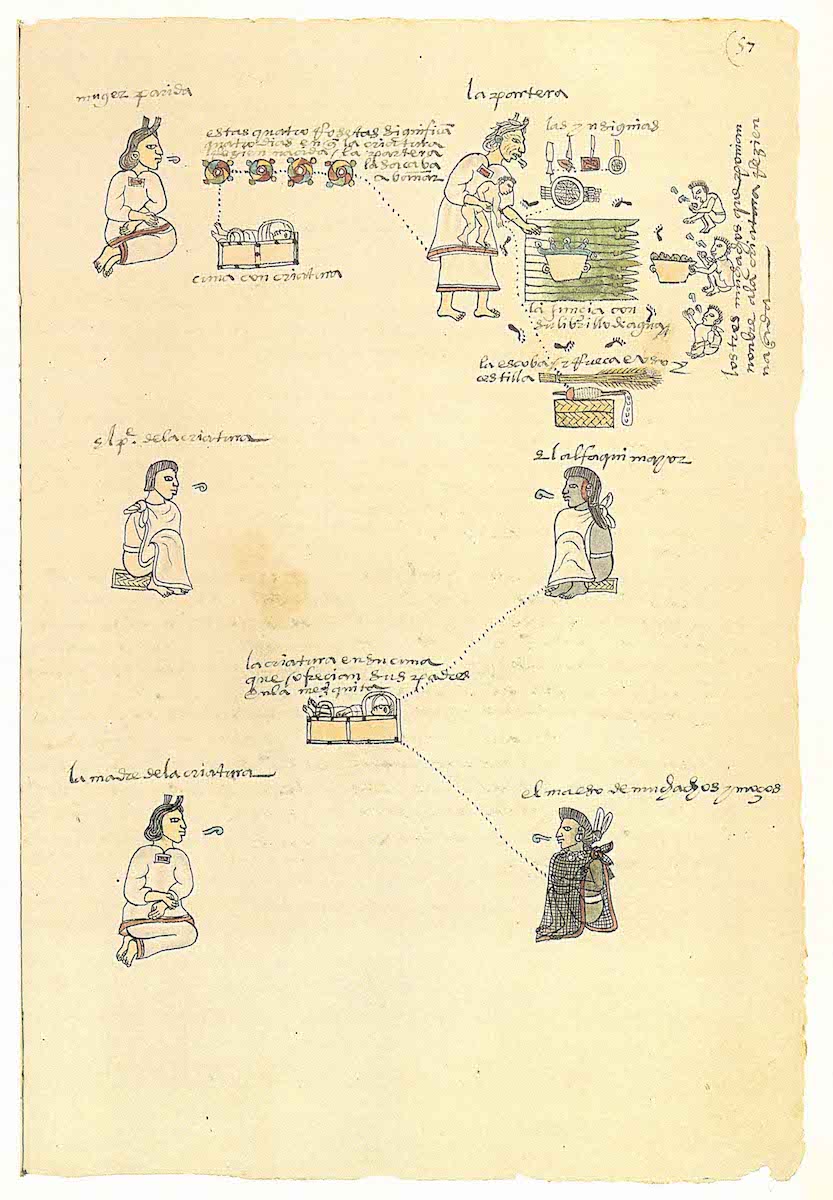 Annotation
The image from the Codex Mendoza (produced ca. 1535-1550) describes the Aztec birth ritual of bathing and naming the child, which, according to accounts from the 16th century, was usually held on the fourth day after birth. It was attended by the parents and kin, who gathered in the house before sunrise to feast and observe the ceremony. The midwife who aided the birth conducted the ceremony, and she is shown holding the infant. After consulting with the tonalpouhqui, a person knowledgeable in the sacred books would determine the sign of the child based on the moment of birth.
The image is a narrative, showing a sequence of events through the use of multiple images connected by dotted lines. The midwife took the infant from the cradle near its mother and carried it to a pottery vessel filled with water, placed on a mat. The midwife's counterclockwise footprints circle the mat, where two sets of symbolic objects are placed. Male infants were given a shield and arrows, tools for wood-, feather-, and metal-work, and the scribe's implements (depicted above the mat). Female children were given domestic objects: a broom, a reed basket and a spindle (depicted below the mat). The midwife performed four rituals with the water: she invoked the goddess of water and put drops of water on the baby's mouth, telling it to receive the water it needs to live upon the earth; she touched the baby's chest with her wet hand and invoked the purifying property of water that cleans the heart; she cast drops of water on the baby's head, telling the baby to let the water enter its body to dwell there. Finally, the midwife washed the child's body to keep evil away from it. After these four rites, a boy child was presented to the sky four times, calling on the sun and the astral gods, asking that he become a warrior. A girl child was not presented to the sky—a masculine god, but after the washing the midwife spoke to the cradle asking the protection of the mother goddess. Following the ceremony, the baby was given a name, often one based on the day and time of birth.
This source is a part of the Codex Mendoza (16th c.) teaching module.
Credits

Codex Mendoza, prepared on the order of Don Antonio de Mendoza, Viceroy of New Spain, for the Emperor Charles V., Mexico; c. 1535-50, Bodleian Library, MS. Arch. Selden. A. 1, fol. 57r. Annotated by Susan Douglass.
How to Cite This Source
"Birth Rituals in the Codex Mendoza," in World History Commons, https://worldhistorycommons.org/birth-rituals-codex-mendoza [accessed March 30, 2023]