Primary Source
Tracing Canoe Pathways in the Lesser Antilles, 2000 BE - 400 BC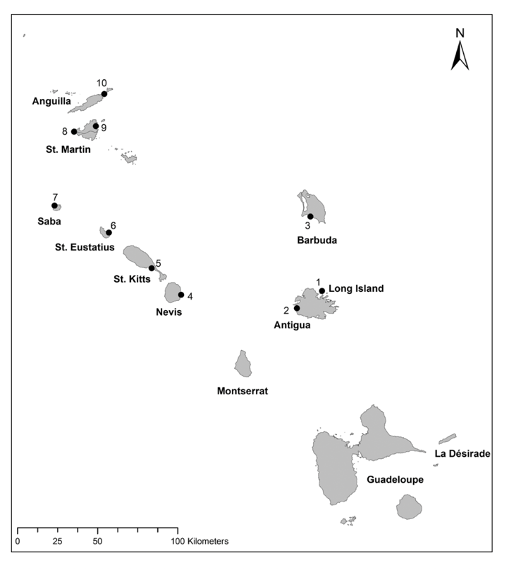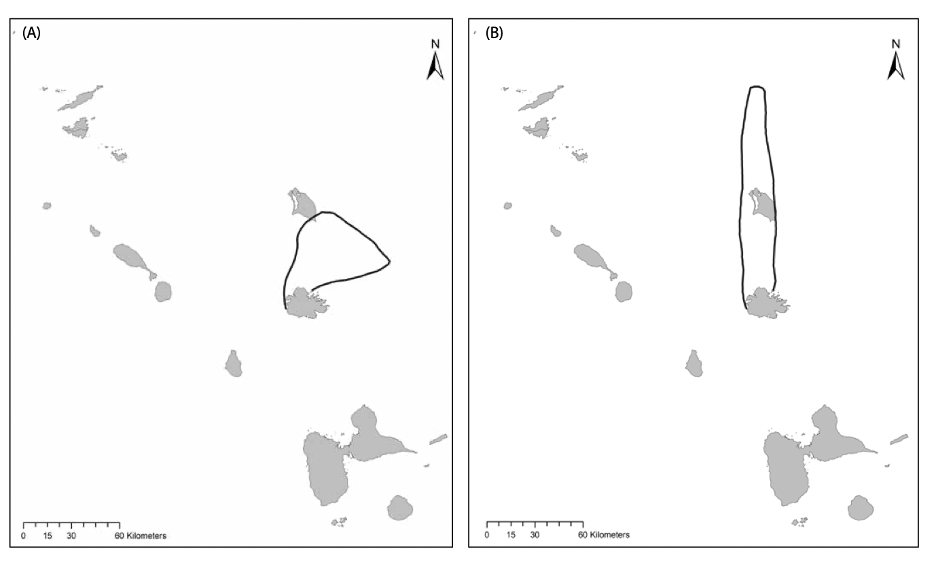 Annotation
These maps show two constructed least cost pathways between Flinty Bay on Long Island just off the coast of Antigua (the right end of the line) and Jolly Beach on Antigua (the left end of the line). Flinty Bay served as a major source of flint for the Archaic Age (2000 - 400 BC) communities in the northern Lesser Antilles, the islands shown on the map. Jolly Beach and Flinty Bay were connected through exchange or direct contact, evidenced by the lithic materials sourced from Long Island. The close working relationship between these two sites is mirrored in their assemblages, particularly in the transportation and modification of flint nodules. It is clear that Amerindian peoples traveled between these two sites, and travel by sea would have been much easier than crossing the island by land.
Modeling connections between these two points can tell us not only about the ease of travel from point A to Point B, but also if there are any possible long form connections that happen between these points when canoes are blown off course. The above comparisons are just two examples to show the many unexpected extended voyages connecting two sides of the same island. This demonstrates a possible connection between peoples on Antigua and Barbuda, which can be further explored through evaluating archaeological site materials along the length of these routes. 
 
This source is part of the Caribbean Seafaring in the Archaic Age teaching module. 
Credits

Routes from Antigua to Long Island that move by Barbuda. (A): The route launched was launched at 9pm on the 13th of April 2013, Route: 1-0_2013-04-13T21, and (B): The route launched was launched at 12am on the 21st of April 2013, Route: 1-0_2013-04-21T00 (Slayton 2018).
How to Cite This Source
"Tracing Canoe Pathways in the Lesser Antilles, 2000 BE - 400 BC," in World History Commons, https://worldhistorycommons.org/tracing-canoe-pathways-lesser-antilles-2000-be-400-bc [accessed December 5, 2023]