Primary Source
The Scout's and King's African Rifles Uniforms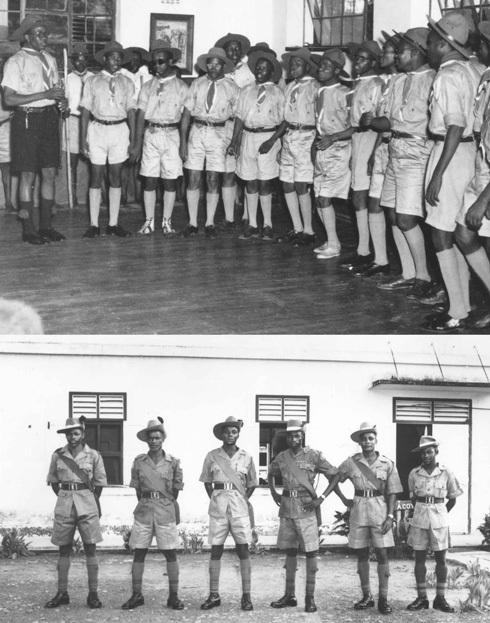 Annotation
The top photograph shows members of a South African scout troop specifically for blind adolescents and young men c.1950. The bottom photograph is of non-commissioned officers from the King's African Rifles in the mid-1950s. Note that both groups wear similar clothing consisting of khaki shirt and shorts, knee-length socks, clasp belts, and wide brimmed hats. The similarities are not accidental. Baden Powell based the scout uniform on the uniform of the South African Constabulary, a paramilitary police organization he founded after the Anglo-South African War. British colonial military and police forces throughout the world wore similar khaki clothing.
Although scouting had its own specific badges and insignia, the African civilian population understandably had a difficult time distinguishing Boy Scouts from soldiers and policemen. This allowed scouts and men and boys dressed as scouts to pose as policemen and other representatives of the colonial state. Scout leaders and government officials were understandably concerned and upset by this misappropriation of the scout uniform.
This source is a part of the African Scouting (20th c.) teaching module.
Credits

[Top photo] Corbett (Thomas Godfrey Polson), Baron Rowallen Collection. National Library of Scotland, Edinburgh. [Bottom photograph] K13995. Imperial War Museum, London. Annotated by Tim Parsons.
How to Cite This Source
"The Scout's and King's African Rifles Uniforms," in World History Commons, https://worldhistorycommons.org/scouts-and-kings-african-rifles-uniforms [accessed February 2, 2023]