Primary Source
Protect the Great Results of the Cultural Revolution, 1974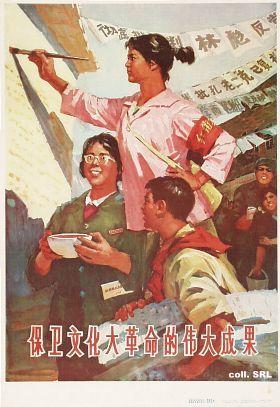 Annotation
Visual images provide valuable material for the exploration of childhood, youth and history. Propaganda posters from the People's Republic of China (1949-present) are particularly rich, offering images that are both bold and subtle, and which many students find as nicely accessible sources to explore. The posters offer a sense of the ways in which a Chinese state and the individual artists it employed sought to use the image of the child to gain a broader public investment in political movements and to define new visions of the revolutionary cause, particularly during the Great Proletarian Cultural Revolution (1966-1976). Exploration of the imagery of children in these posters provides useful sources through which to explore the ways in which images of children would come to signify broader social and political meanings and to potentially inspire both youths and adults in their own definitions of self-identity.
In "Protect the great results of the Cultural Revolution, 1974," a cohort of determined youth in red armbands replace adults and offer their own voices to a new definition of the revolutionary cause through the posters and slogans they paint. Gender is a theme of particular value here, both in comparison with "The happy life Chairman Mao gave us, 1954" image and "Studying for the mother country, 1986". In this poster, we find a determined teenage girl leading the way rather than serving the table.
This source is a part of the Chinese Propaganda Posters teaching module.
Credits

"Protect the great results of the Cultural Revolution, 1974", Stefan Landsberger's Chinese Propaganda Poster Pages, http://www.iisg.nl/landsberger/index.html (accessed March 9, 2009).
How to Cite This Source
"Protect the Great Results of the Cultural Revolution, 1974," in World History Commons, https://worldhistorycommons.org/protect-great-results-cultural-revolution-1974 [accessed September 28, 2023]