Primary Source
Living History by Hillary Clinton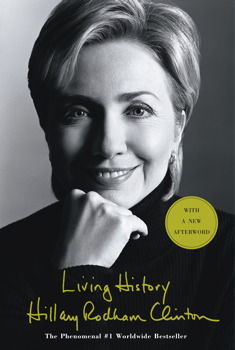 Annotation
Written shortly after being elected a United States Senator, Living History is an autobiography by Hillary Rodham Clinton, politician and former First Lady of President Bill Clinton. Living History is a memoir covering Clinton's early years and her time as First Lady. She details her role in shaping domestic legislation, including health care, economic and educational opportunities, and women's rights. Clinton used three ghostwriters, or people who write content for the stated author. Maryanne Vollers, Alison Muscatine, and Ruby Shamir were acknowledged by Clinton for the two years of work they contributed to Living History, but were not given co-author credits. Clinton was criticized for often overemphasizing seemingly mundane events during her time as First Lady, as well as significantly downplaying or glossing over issues President Clinton faced such as the Lewinsky scandal. As an active politician at the time of its publication, a goal of Clinton's was to draw more attention to the high points of her career so far, rather than remind the public of the negative. Living History was extremely successful, selling more than one million copies in its first month of publication.
This source is part of the Analyzing Personal Accounts methods module.
Credits

Living History. Hillary Rodham Clinton. New York: Scribner, 2004. 
How to Cite This Source
"Living History by Hillary Clinton," in World History Commons, https://worldhistorycommons.org/living-history-hillary-clinton [accessed May 27, 2023]