Primary Source
Life Histories (Chile) Table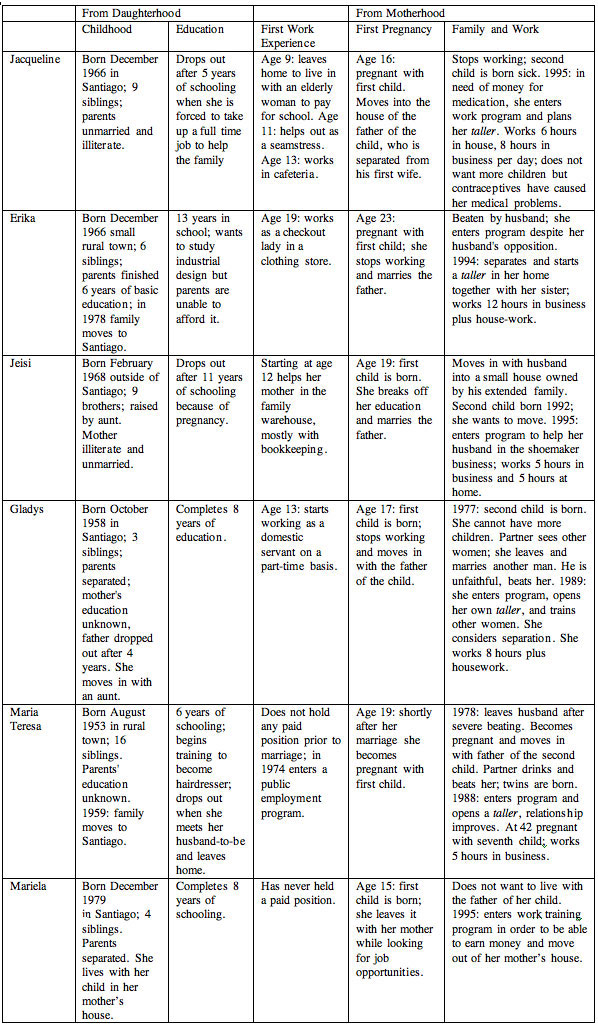 Annotation
Women all over the world may undergo life-course transitions from daugtherhood to motherhood, a great similarity that shapes their lives due to what is perhaps the biological difference that most distinguishes women from men: their childbearing capacity. The circumstances under which women experience transitions, however, vary greatly. Female life histories—and meanings of motherhood—are shaped by multiple factors. Access to education is one of these factors.
The following table presents an overview of case studies gathered in an effort to promote education among women. It introduces information in comparative perspective and sheds light on women's life cycles in poor sectors of 20th-century Chilean society. Most of the life histories presented here introduce women who have not had a wide range of choices in their lives.
In reading this source, consider the major experiences and factors that have shaped women's decision-making patters regarding their health and well-being. Similarly, one should reflect on the ability of women to make independent and informed decisions.
This source is a part of the Gender and Health in Latin America, 1980-2010 teaching module.
Credits

Bosch, Anna E., "Popular Education, Work Training, and the Path to Women's Empowerment in Chile." Appendix in Comparative Education Review, 42/2 (May 1998): 163-182.
How to Cite This Source
"Life Histories (Chile) Table," in World History Commons, https://worldhistorycommons.org/life-histories-chile-table [accessed December 9, 2023]