Primary Source
Ideal ration recipe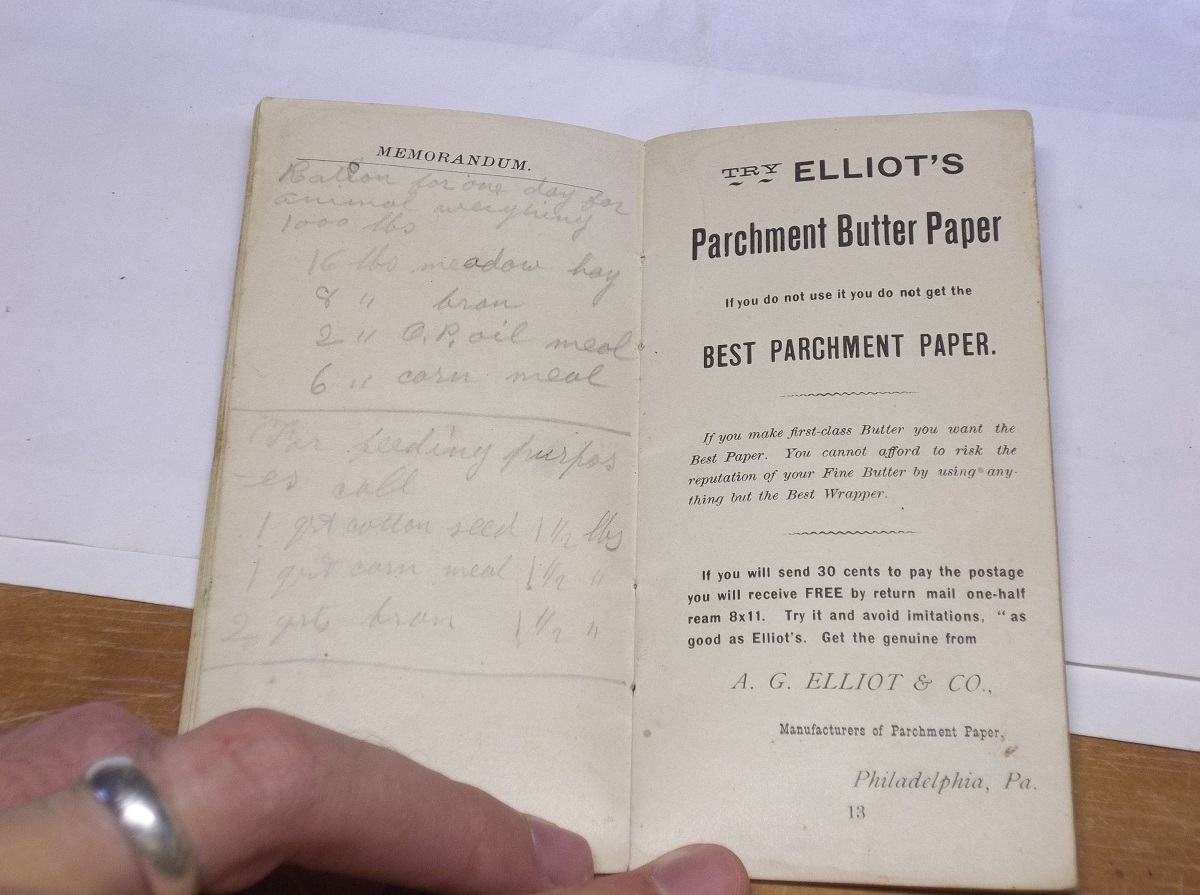 Annotation
This is one page out of a notebook kept by Stephen Robinson Parsons, a somewhat improvement-minded farmer in South Paris, Maine. Around 1896, Stephen copied into his fact book an ideal ration: 
Ration for one day for animal weighing 1000 lbs
    16 lbs    meadow hay
    8    "       bran
    2    "     O[ld]. P[rocess]. [linseed] oil meal
    6    "     corn meal
The formatting of this little copied text hinted at its origin. It had found its way to Stephen from one of the standard feeding manuals of the day, probably through one of the farm journals to which he subscribed. First published in 1883, Elliott W. Stewart's "Feeding Animals: A Practical Work upon the Laws of Animal Growth" had become a widely respected work on animal feeding from an improver's perspective. Several other publications (including this one) quoted his sample rations, usually endorsed by dairymen's associations. In Maine, it was assigned as a textbook at the State College along with Henry Prentiss Armsby's "Manual of Cattle Feeding." It included several sample ideal rations which Stewart had adapted from the productive rations of a Thomas Horsfall of England, who published in the 1850s and 1860s. Stewart used the methods of American and German scientists, including Armsby and Emil Wolff, to recalculate these rations to include American feedstuffs. However, Stewart's ideal ration was not immediately useful to Stephen. Underneath it, he noted the conversion of the ingredients from weight to volume, pounds to quarts, rounded "for feeding purposes." As in previous experiments, Stephen seems to have used a measuring cup rather than a scale when assembling the rations for his cows. It made measuring easier and faster. This document demonstrates how asking the question of where a particular piece of knowledge came from can reveal the adaptations made by multiple actors in the translation chain from laboratory to barn and from Germany and England to the United States. Also, this tracing of knowledge emphasizes the advantage of fully indexed digital source archives, such as HathiTrust, which allowed the identification of the origins and part of the lineage of Parsons note of an ideal ration.
 
This source is part of the teaching module on agricultural knowledge in the late nineteenth century. 
Text

Ration for one day for animal weighing 1000 lbs
    16 lbs    meadow hay
    8    "       bran
    2    "     O[ld]. P[rocess]. [linseed] oil meal
    6    "     corn meal
 
Credits

Stephen Robinson Parsons' notebook marked "Compliments of… American Cotton Oil Co. etc," private archive of Jeffrey and Mary Parsons, Ann Arbor, MI.
How to Cite This Source
"Ideal ration recipe ," in World History Commons, https://worldhistorycommons.org/ideal-ration-recipe [accessed December 5, 2023]