Primary Source
Cecil Rhodes monument removal, Cape Town, South Africa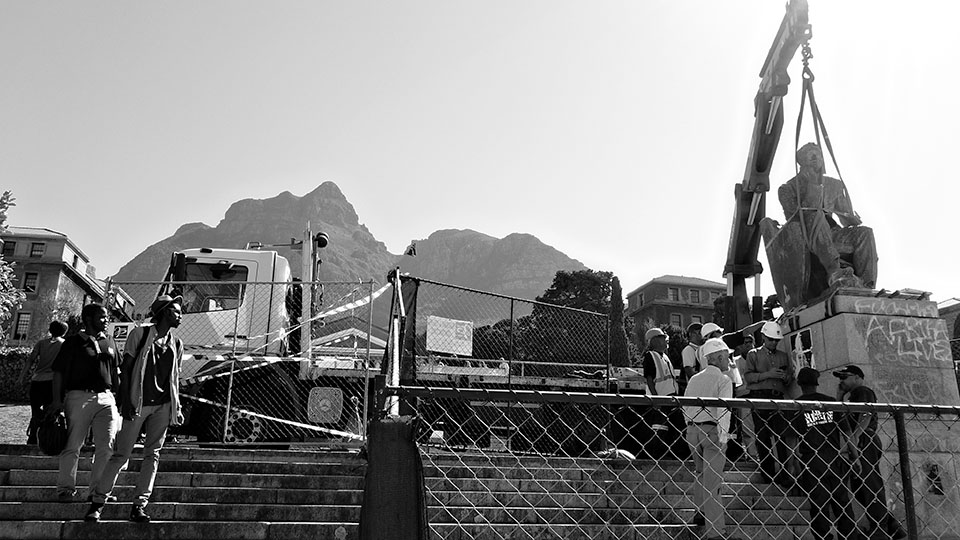 Annotation
The bronze statue of a seated Cecil Rhodes (1853-1902), on the campus of the University of Cape Town (UCT), was sculpted by Marion Walgate, one of the first white female sculptors in South Africa. Except for defacement by protestors of the university's commemoration of its 150th anniversary in 1979, the Rhodes statue remained intact through the twentieth century, despite Rhodes' seminal role, when prime minister of the Cape Colony 1890-1896, in dispossessing Africans of land and voting rights, the groundwork for South Africa's apartheid regime.
In 2015, the university removed the statue in response to a protest movement, Rhodes Must Fall (RMF) that began in March that year, marked by a student's emptying a bucket of excrement over the statue. Further protests pressured the university to remove the statue in April. In an August report, UCT observed that the Rhodes statue controversy was "comparable to recent debates in the USA regarding the continued display of the Confederacy flag on public buildings and public sites," and indicated it had received four offers to relocate the statue, one to a sculpture garden in Texas, USA, two to Rhodes heritage sites in South Africa, and one to a South African university. As of spring 2021 the statue remained in storage at UTC. Meanwhile, protests ensued at universities elsewhere that had erected Rhodes statues acknowledging Rhodes's philanthropy. In 2016 the University of Oxford refused RMF protestors' demands to remove a Rhodes statue from the façade of its Oriel College, partly in response to donors' threats to end financial support. However, RMF protests renewed in 2020, inspired by international Black Lives Matter protests. In June of that year College administrators voted to remove the statue, though that statue remained in place in spring 2021 as well.
Credits

Desmond Bowles. "#RMF Statue Removal 04." April 9, 2015. Flickr. May 17, 2021.
How to Cite This Source
"Cecil Rhodes monument removal, Cape Town, South Africa," in World History Commons, https://worldhistorycommons.org/cecil-rhodes-monument-removal-cape-town-south-africa [accessed January 26, 2023]