Primary Source
Business contract between Richard P. Waters and his Omani-Zanzibari trading partner, Esau bin Abdul Rahman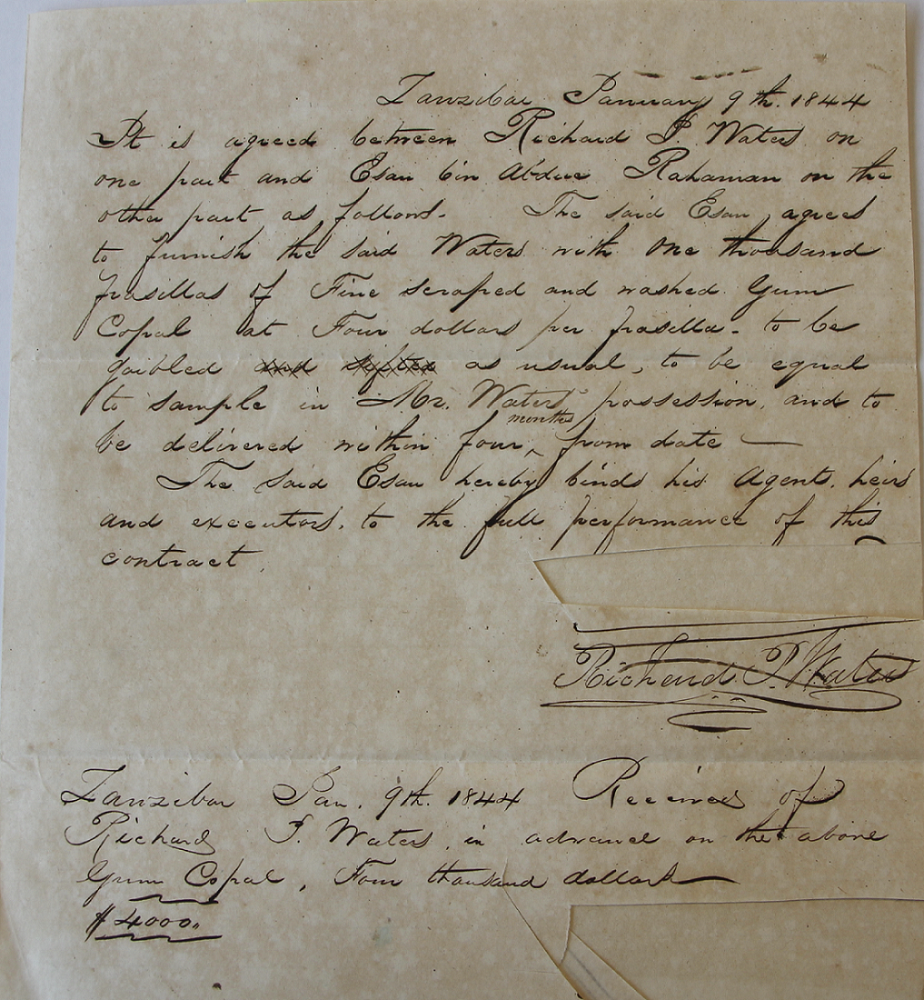 Annotation
This contract represents how business was typically transacted in Zanzibar and throughout the Omani Empire. It reflects how merchants throughout the region relied upon forging deals with each other, but it also serves as a lens through which we can peer to see how this space allows us to see just how tightly connected the world was becoming. This contract stipulated that Richard P. Waters would grant Esau bin Abdul Rahman a loan of $4,000. Esau would use this loan to mobilize his own networks to gather one-thousand frasilahs (a common unit of measure in the Indian Ocean, about 35 pounds) of gum copal. It stipulates that Esau must deliver the copal to Waters within four months. It also states that Esau's "agents, heirs, and executors" were bound by the contract. We can interpret this single document as global capitalism in the making. Here was an American merchant from Salem, Massachusetts, on the East African island of Zanzibar, striking a deal with an Omani trader, who would have likely relied on enslaved Africans and Arab caravan porters to trek deep into the East African continent to secure the gum copal. Finalizing the deal, as always throughout the Omani Empire, would have been the Customs Master – an Indian from Gujarat. Moreover, however, if something had happened to Esau, his "agents, heirs, and executors" were legally bound by this contract, required to finish the deal. But there is more. What was gum copal? Gum copal was a tremendously popular commodity in this time, abundantly found in East Africa. It is a resin produced from the sap of certain trees that was used for many things, including as a glue or varnish for furniture making. It could also sometimes be used for certain medical practices. This document, then, allows us to see in the making the globally enmeshed chains of commercial interactions that characterize our present-day system of global capitalism in the making. This wasn't just a contract between Richard and Esau: it also bound together within this commercial moment Esau's heirs and executors, Richard's business partners in Salem, and the countless consumers throughout New England who were eagerly awaiting that gum copal, to turn their own respective profits. 
Transcription

Zanzibar January 9th. 1844

It is agreed between Richard P. Waters on one part and Esau bin Abdul Rahman as follows. The said Esau agreed to furnish the said waters with one thousand frasilahsof fine scraped and washed Gum Copal at four dollars per frasilah... to be equal to sample in Mr. Waters' possession, and to be delivered within four months from date - 

The said Esau hereby binds his agents, heirs, and executors, to the full performance of this contract. 
How to Cite This Source
"Business contract between Richard P. Waters and his Omani-Zanzibari trading partner, Esau bin Abdul Rahman," in World History Commons, https://worldhistorycommons.org/business-contract-between-richard-p-waters-and-his-omani-zanzibari-trading-partner-esau-bin-abdul [accessed October 3, 2023]