Primary Source
Barbie Turns 21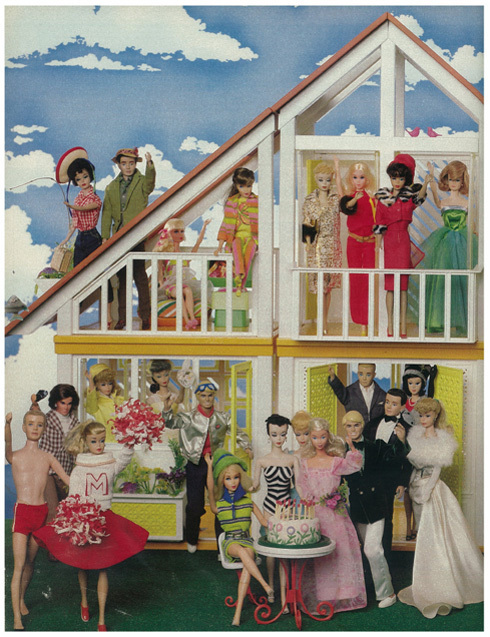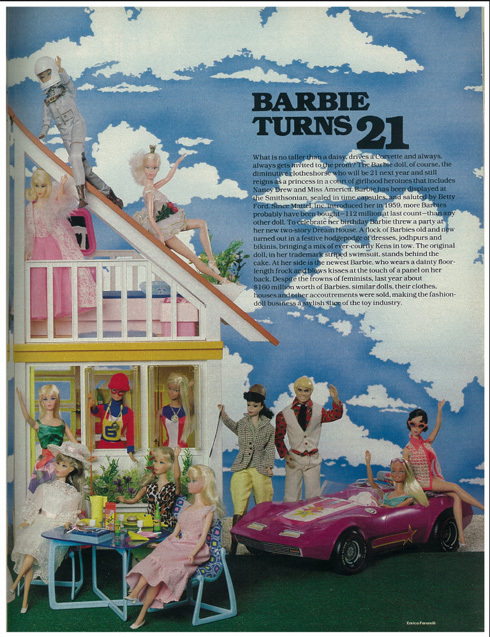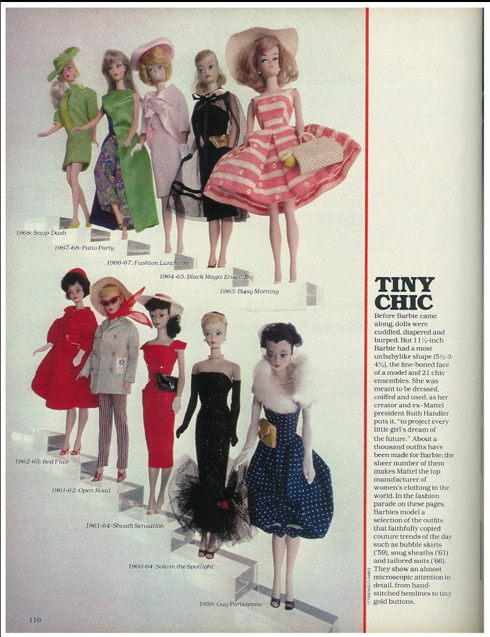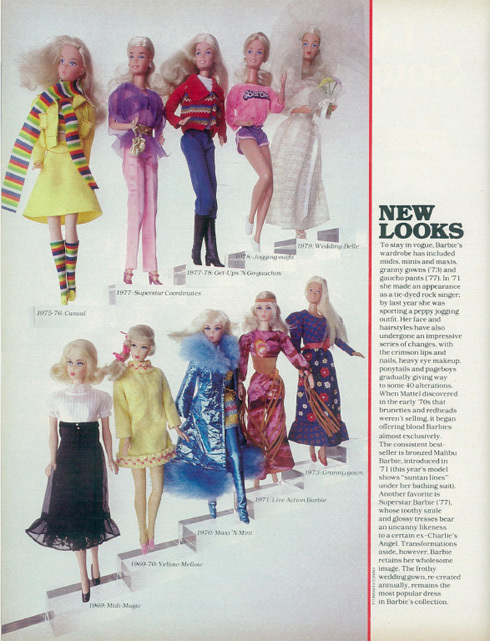 Annotation
Barbie—who is today the most famous doll in the world—was based on Lilli, a sexy and sassy German doll first produced in 1955. Co-founder of Mattel Inc., Ruth Hander transformed the Teutonic doll from floozy to fashion queen for American girls like her daughter, Barbara, after whom the doll was named. In all other ways, Barbie's shapely body was nearly indistinguishable from Lilli's pleasing figure. A decade after Barbie's debut in 1959, however, Mattel altered her features (e.g., eliminating the arched eyebrows, scarlet cosmetics, sideways glancing eyes) in order to make the teenage fashion model look more youthful and wholesome.
The photographs in "Barbie Turns 21" published in LIFE magazine make it possible to examine Barbie across two transformative decades in the history of American girls and gender. Along with other primary sources, Barbie dolls (including her outfits and accessories) can be "read" or interpreted for what they reveal about the influence of feminism on changing constructions of girlhood between 1959 and 1979.
What meanings can be expressed in a material object? Conduct an analysis of the chronologically arranged Barbies seen here by examining each doll and outfit. What values are embodied in Barbie and encoded in her wardrobe? Are there any cultural contradictions—such as independence v. dependence—embedded in the material culture evidence? In what ways do these ambiguities point to broader ambivalences about changes for girls in postwar America? How does the article's text support or complicate your understandings?
Text

Barbie Turns 21
What is no taller than a daisy, drives a Corvette and always, always gets invited to the prom? The Barbie doll, of course, the diminutive clotheshorse who will be 21 next year and still reigns as a princess in a court of girlhood heroines that includes Nancy Drew and Miss America. Barbie has been displayed at the Smithsonian, sealed in time capsules, and saluted by Betty Ford. Since Mattel, Inc. introduced her in 1959, more Barbies probably have been bought—112 million at last count—than any other doll. To celebrate her birthday Barbie threw a party at her new two-story Dream House. A flock of Barbies old and new turned out in a festive hodgepodge of dresses, jodhpurs and bikinis, bringing a mix of ever-courtly Kens in tow. The original doll, in her trademark striped swimsuit, stands behind the cake. At her side is the newest Barbie, who wears a dainty floor-length frock and blows kisses at the touch of a panel on her back. Despite the frowns of feminists, last year about $160 million worth of Barbies, similar dolls, their clothes, houses and other accoutrements were sold, making the fashion-doll business a stylish slice of the toy industry.

Tiny Chic
Before Barbie came along, dolls were cuddled, diapered and burped. But 11 ½ inch Barbie had a most unbabylike shape (5 ½-3-4 ¾), the fine-boned face of a model and 21 chic ensembles. She was meant to be dressed, coiffed and used, as her creator and ex-Mattel president Ruth Handler puts it, "to project every little girl's dream of the future." About a thousand outfits have been made for Barbie; the sheer number of them makes Mattel the top manufacturer of women's clothing in the world. In the fashion parade on these pages, Barbies model a selection of the outfits that faithfully copied couture trends of the day such as bubble skirts ('59), snug sheaths ('61) and tailored suits ('66). They show an almost microscopic attention to detail, from hand-stitched hemlines to tiny gold buttons.

New Looks
To stay in vogue, Barbie's wardrobe has included midis, minis and maxis, granny gowns ('73) and goucho pants ('77). In '71 she made an appearance as a tie-dyed rock singer; by last year she was sporting a peppy jogging outfit. Her face and hairstyles have also undergone an impressive series of changes, with the crimson lips and nails, heavy eye makeup, ponytails and pageboys gradually giving way to some 40 alterations. When Mattel discovered in the early '70s that brunettes and redheads weren't selling, it began offering blond Barbies almost exclusively. The consistent best-seller is bronzed Malibu Barbie, introduced in '71 (this year's model shows 'suntan lines' under her bathing suit). Another favorite is Superstar Barbie ('77), whose toothy smile and glossy tresses bear an uncanny likeness to a certain ex-Charlie's Angel. Transformations aside, however, Barbie retains her wholesome image. The frothy wedding gown, re-created annually, remains the most popular dress in Barbie's collection.
Credits

Annotated by Miriam Forman-Brunell.
How to Cite This Source
"Barbie Turns 21," in World History Commons, https://worldhistorycommons.org/barbie-turns-21 [accessed August 12, 2022]