Primary Source
Tobacco Workers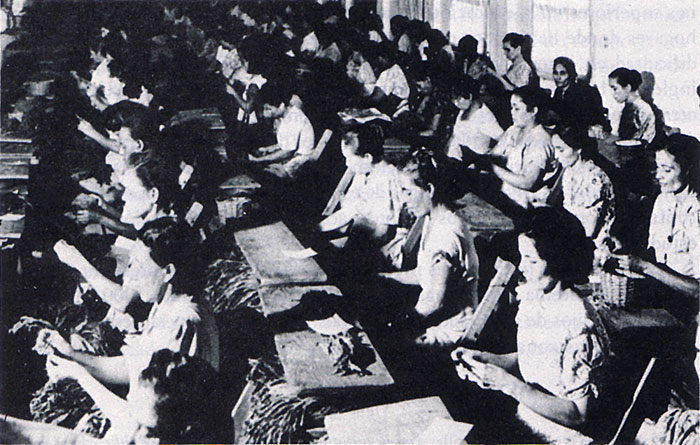 Annotation
In addition to sugar, tobacco was important to Puerto Rico's industrial agricultural order after the arrival of the United States. Puerto Rican women and men labored in a building called a fabrica (or factory). Women's jobs consisted of being seated for long hours rolling tobacco leaves—as visible in this 1945 photograph of women working as tobacco-strippers in a factory.
In addition to being the center of production, the tobacco factories served as center of gathering for both men and women to discuss many issues. Since rolling tobacco leaves is a tedious job with long hours, the workers did not have much time for relaxation. Thus, in their eagerness to learn and receive instruction while they worked, tobacco strippers established the tradition of hiring the lectora or lector (the reader), whose task was to read from newspapers and classic literary works to the workers while they performed their tasks. The workers paid the reader, who in many instances was a female.
This source is a part of the Women and the Puerto Rican Labor Movement teaching module.
Credits

Picó, Fernando. "Tobacco-stripper women in the factory." 1945. In Historia general de Puerto Rico. Rio Piedras, Puerto Rico: Ediciones Huracán, 1990.
How to Cite This Source
"Tobacco Workers ," in World History Commons, https://worldhistorycommons.org/tobacco-workers [accessed June 1, 2023]