Primary Source
Teaching Traditional Polynesian Navigation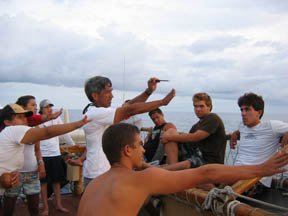 Annotation
On the Micronesian island of Satawal, north of Papua New Guinea (about 2000 miles east of the island group of Hawaii), children sit on a canoe watching a ceremony related to the heritage of traditional navigation. The children are witnesses to a Pwo ceremony—the first held in over 50 years—inducting master navigators into a select group of Micronesians. Five Polynesians, including several Hawaiians, earned this honor by continuing the tradition of "wayfinding" on the Pacific Ocean that was responsible for the settlement of nearly all habitable islands in the vast ocean as much as 1000 years ago. Mau Piailug, a 76-year-old master navigator, conducted the ceremony as one of the last who inherited the skill marked by the journey of the Hawaiian double-hulled canoe Hokule'a on a Hawaii to Tahiti voyage of more than 2,200 miles, in 1976. The canoe was built from 400-year-old logs donated by a group of native Alaskans because there are no more suitable trees in Hawaii's forests. It was built in the traditional manner by more than 1000 volunteers. The voyage to Tahiti proved that centuries prior to European oceanic voyages, Polynesians navigated in such canoes merely by reading nature: stars, clouds, waves, and the behavior of sea birds. More than 16 such voyaging canoes have since been built, and one of them, the double-hulled canoe Alingano Maisu, was sailed to Satawal and presented to Mau Piailug to recognize his role in transmitting his skill to the next generation of navigators. Piailug's teaching has taken the canoe Hokule'a across the Polynesian triangle from Hawaii to Rapa Nui (Easter Island) to Aotearoa (New Zealand)—voyages equal to circumnavigating the globe twice.
"Today [the ceremony] was not about us. Today was about our children continuing their tradition, culture and ancestry," said Nainoa Thompson, one of the navigator-inductees and members of the 1976 voyage. A Hawaiian language aphorism, Kapu Na Keiki meaning "Hold Sacred the Children" expresses Thompson's vision as a navigator and educator. Training the next generation of navigatores to uphold this tradition involves more than just skills of sailing. It addresses the multiple problems faced by many indigenous groups today: healthy nutrition, avoiding drug and alcohol abuse, and securing education and employment skills, as well as caring for the environment. The Polynesian Voyaging Society, which built and maintains the voyaging canoe Hokule`a, carries out programs for exposing youth to the pleasures and challenges of sailing and wayfinding as a means of teaching character and sound living practices as well as carrying on the sacred indigenous tradition of the peoples of the Pacific. Among the programs carried out in Hawaii, high school students paddle one- and two-man canoes about 100 miles along Hawaii's coastline in the shadow of the Hokule'a, to hone and test their wayfinding skills.
Credits

Gary T. Kubota, "Navigators' journey of spirit, skill ends," Star Bulletin, March 18, 2007, http://archives.starbulletin.com/2007/03/18/news/story04.html; and "Kapu Na Keiki," Polynesian Voyaging Society, http://pvs.kcc.hawaii.edu/kapunakeiki.html (accessed December 8, 2009).
How to Cite This Source
"Teaching Traditional Polynesian Navigation," in World History Commons, https://worldhistorycommons.org/teaching-traditional-polynesian-navigation [accessed October 2, 2023]