Primary Source
Tags and Throws on a SoHo Side Street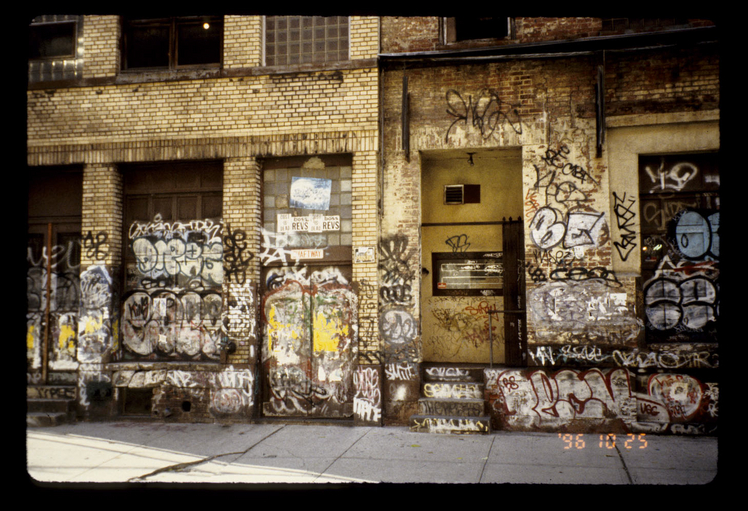 Annotation
This photo shows a wall covered in "tags" and "throws" along a commonly-traveled side street that runs through the SoHo area of Manhattan, which is one of New York City's major museum and art gallery districts. Tags were the first form of graffiti art, originated in the late 1960s, and are linear signatures quickly written with spray paint and markers, usually taking 15 seconds or less to complete. The larger works are 'throws" (or "throw-ups"), large initials or names quickly spray-painted in a light color with a dark outline in a "bubble" letter style, usually taking a minute or less to complete. Tags and throws are usually the first forms that a new graffiti artist attempts to master, but they are also intended to maintain an artist's competitive visibility.
As with rooftops and schoolyards, street-level buildings became a common place for graffiti artists to paint after the painting on the subways was contained in the mid-1980s. Like the sides of the subway trains, the walls became a visual record of an ongoing competition and conversation among graffiti writers. The streets are the most risky place for writers to work, hence the necessity of quickness in execution, and it also explains why there are very few of the more elaborate pieces visible in most areas of the city.
This source is a part of the Children and Daguerreotypes (19th c.) teaching module.
How to Cite This Source
"Tags and Throws on a SoHo Side Street," in World History Commons, https://worldhistorycommons.org/tags-and-throws-soho-side-street [accessed September 27, 2023]