Primary Source
Queens Rooftops, Seen From a Subway Platform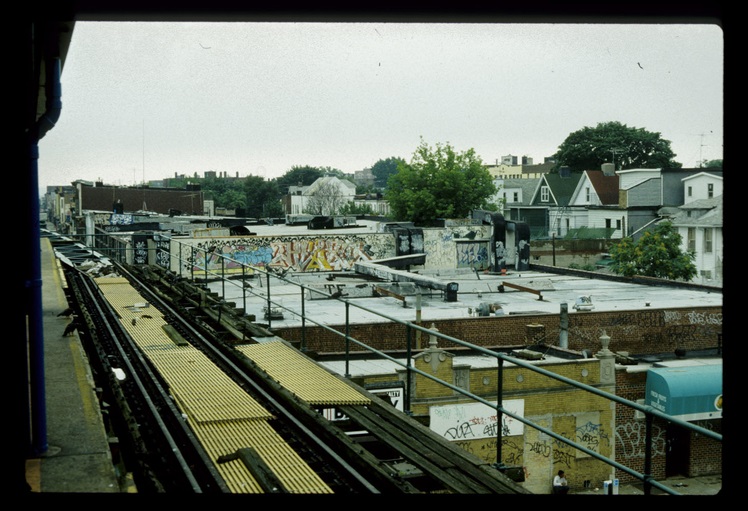 Annotation
A main goal for almost all graffiti artists is to be seen by other artists or appreciative peers, as well as the typical New York City passers-by. In the mid-1980s, after more than 15 years effort, the New York City Transit Authority was successful in preventing painted trains from circulating through the subway system. Since their works could no longer circulate through the city on subways, many graffiti writers turned to the walls to maintain visibility. Along with bridge works, highway retaining walls, schoolyards, and handball courts, rooftops became a favored "spot," particularly those along the elevated subway lines.
This photograph, taken from a subway platform in Queens, shows two elaborate pieces on a rooftop, with other works in the distance. Like most graffiti art, rooftops are usually painted at night in the company of friends who keep watch for police. In a densely-packed city like New York, the rooftops are often connected along the entire block, allowing artists to move easily from one to the other.
This source is a part of the Children and Daguerreotypes (19th c.) teaching module.
How to Cite This Source
"Queens Rooftops, Seen From a Subway Platform," in World History Commons, https://worldhistorycommons.org/queens-rooftops-seen-subway-platform [accessed February 7, 2023]