Primary Source
Olympic Games Poster, Stockholm, 1912.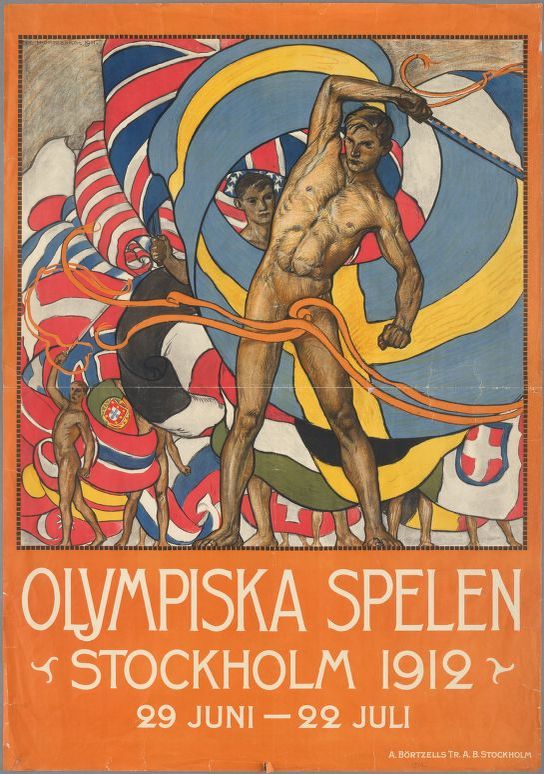 Annotation
This is an image of a poster advertising the 1912 Summer Olympic games held in Stockholm, Sweden. This particular poster was created by the artist Olle Hjortzberg as part of an advertising campaign. Although the modern Olympics games was first held in 1896 and usually every four years after, the 1912 Summer Olympic games marked a transition from a smaller athletic competition to a global event accompanied by more intensive media converge. This poster was spread worldwide. How did that effect the choices made when creating the poster? Hjortzberg had to consider the international audience and their different cultural values. These hosting countries began to prepare extensively for the upcoming games also often building new venues for the games to take place in. Along with posters there were also other materials such as commemorative postcards, personal and professional photographs, memorabilia form the games such as sports uniforms and publications. Why did the 1912 Summer Olympics usher in a new level of popularity for the games and what were the factors influenced this rise? For example, some factors the increase widespread, effective advertising campaigns, or possible word of mouth from people who had seen previous games and even the transition of the world to more global and connected society. With its popularity came a rise in mass tourism associated with the games. How did these materials influence the tourism into the area? What effects did this tourism have on the area? While some memorabilia like this had a very specific purpose in advertising, you could also think about how these materials were created and how those choices effect how the event is remembered? These questions also apply to commemorative materials such as postcards that also have roles related to the memory of the event.  
This source is a part of the Analyzing Travel Records methods module.
Credits

Image via the Library of Congress: https://www.loc.gov/item/2021670586/
How to Cite This Source
"Olympic Games Poster, Stockholm, 1912. ," in World History Commons, https://worldhistorycommons.org/olympic-games-poster-stockholm-1912 [accessed February 2, 2023]