Primary Source
Map and Population Table for British Gambia, 1915-1918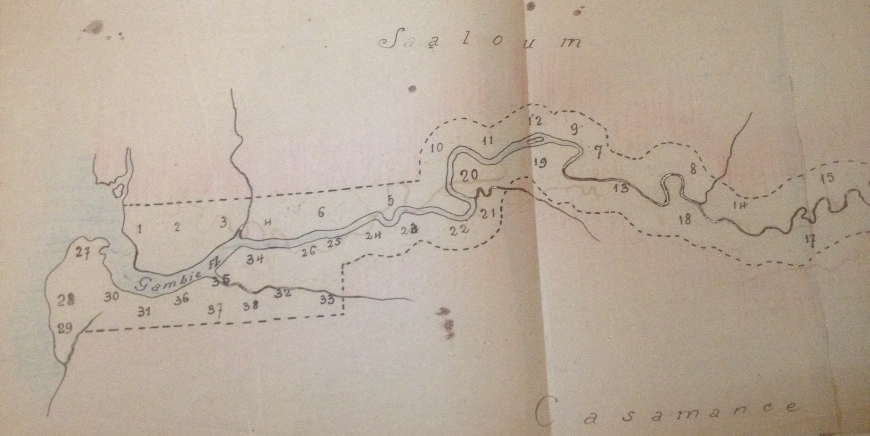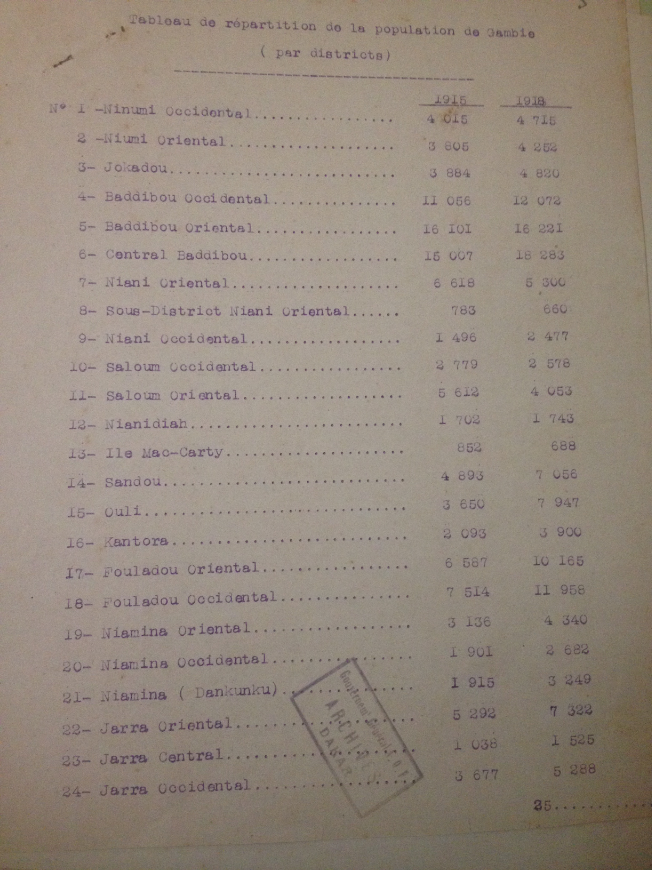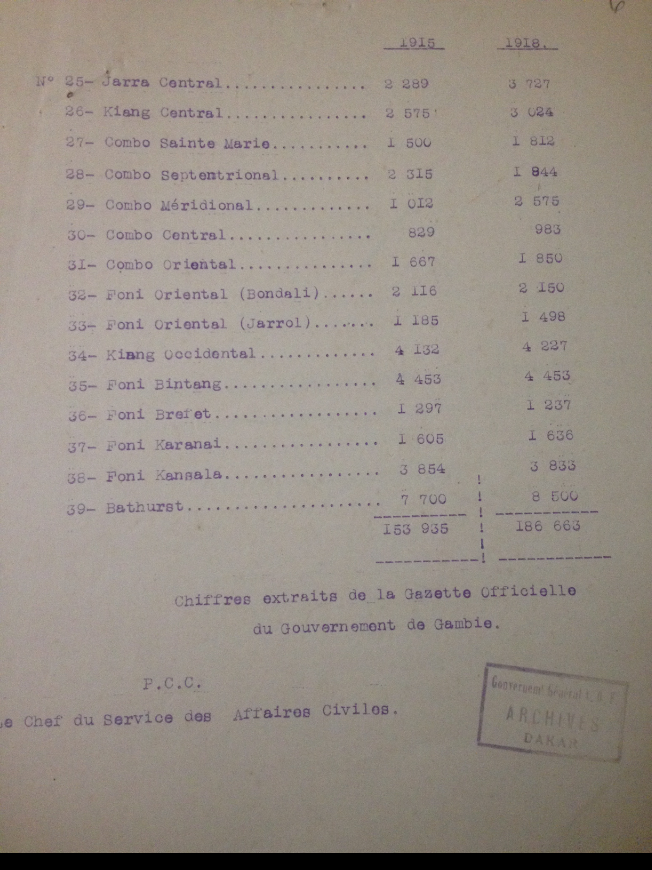 Annotation
Many people in West Africa fled across colonial boundaries to avoid military conscription in the late 19th and early 20th century. For example, during World War I, tens of thousands of people left the French colony of Senegal for neighboring British Gambia and Portuguese Guinea-Bissau.
The primary sources are a map of British Gambia, with districts marked, and a table showing the population of different districts in 1915 and 1918. While population figures were imprecise due to the difficulty of conducting accurate censuses, the figures in this table show the rise in population in different regions of Gambia from 1915 to 1918, as French military conscription activities led many to flee to neighboring regions. Contemporary sources show that the French actively sought to employ British assistance in returning "deserters" who had fled French territory. The British, while open to aiding the French, did not have sufficient power to limit the influx of those from neighboring Senegal, and were also happy to see their population rise, as it increased their ability to collect taxes and raise agricultural production.
The two easternmost districts in Gambia, Wuli (Ouli), number 15 on the map and table, and Kantora, number 16 on the table, and just off the map to the right, saw their populations roughly double during the three years of the war. In contrast, the capital of Bathurst, number 39 on the table and 27 on the map, saw a rise in population of just over 10 percent, while most districts of Kombo (Combo), just outside the capital and numbers 27 through 31 on the table and the map, saw similarly small increases. In all the table shows a jump in population from 153,935 in 1915 to 186,663 in 1918. While the entirety of Gambia was a borderland, surrounded by Senegal on all sides, the areas furthest from centers of power like Bathurst were the ones that saw the opportunity for the greatest mobility. Those areas more closely tied to colonial power were sites of greater surveillance, and often places where national cultures began to develop, separating those in Gambia from their kin in Senegal.
These patterns were not just at work in Senegal, but across French West Africa. In the district of Koumbia, the northwesternmost region of French Guinea saw 4,000 people leave for neighboring Portuguese Guinea during a 1918 recruitment drive. This was part of a larger exodus of people from Koumbia, whose population of taxable individuals dropped from 70,000 in 1912 to fewer than 55,000 by 1919.
 
Transcription

Tableau de répartition de la population de Gambie

(par districts) 

 

The many uses and meanings behind material objects make them valuable tools for exploring the past.

                                                    1915    1918
1 - Ninumi Oocindental               4015       4714    
2 - Ninumi                                   3606     4252
3 - Jokadou                                 3884     4820
4 - Baddidou Oocindental            11056     12072
5 - Baddidou Oriental                   16101     16221
6 - Central Baddidou                    15007     16283
7 - Niani Oriental                          6618      5300
8 - Sous-Distrit Niani Oriental     783       660
9 - Niani Oocindental                  1496      2477
10 - Saloum Oocindental            2779       2578
11 - Saloum Oriental                   5612      4053      
12 - Nianidish                              1702      1743
13 - Ille Mac-Carty                       852        688
14 - Sandou                                 4893      7056
15 - Ouli                                       3650      7947
16 - Kantors                                 2093      3900
17 - Fouladou Oriental                 6587     10165
18 - Fouladou Oocindental          7514      11958
19 - Niamina Oriental                   3136      4340
20 - Niamina Oocindental            1901      2682
21 - Niamina (Dankunku)             1915     3249
22 - Jarra Oriental                        5292     7322
23 - Jarra Central                         1038     1525
24 - Jarra Oocindental                 3677      5288
25 - Jarra Central                         2289     3727
26 - Kiang Central                        2575     3024
27 - Combo Sainte Marie            1500      1812
28 - Combo Septentrional            2315      1844
29 - Combo Méridional                1012      2572
30 - Combo Central                     829        983
31 - Combo Oriental                    1667     1850
32 - Foni Oriental (Bondali)          2116     2150
33 - Foni Oriental (Jarrol)             1185     1498
34 - Kiang Occidental                   4132    4227
35 - Foni Bintang                          4453    4453
36 - Foni Brefet                             1297    1237
37 - Foni Karanai                           1605    1636
38 - Foni Kansala                          3854     3833
39 - Bathurst                                  7700     8500

                                               153935        186663

Chiffre extraits de la Gazette Officielle
du Gouvernement de Gambie

P.C.C.
Le Chef du Service des Affaires Civiles
 

 
Credits

"Mouvement d'émigration des populations du Sénégal et du Soudan vers la Gambie," From Minister of the Coloniest to the Governor-General of French West Africa, October 2, 1918.

Location: Archives Nationales du Sénégal, Dakar, Senegal
Folder: 1F13
How to Cite This Source
"Map and Population Table for British Gambia, 1915-1918," in World History Commons, https://worldhistorycommons.org/map-and-population-table-british-gambia-1915-1918 [accessed December 7, 2023]