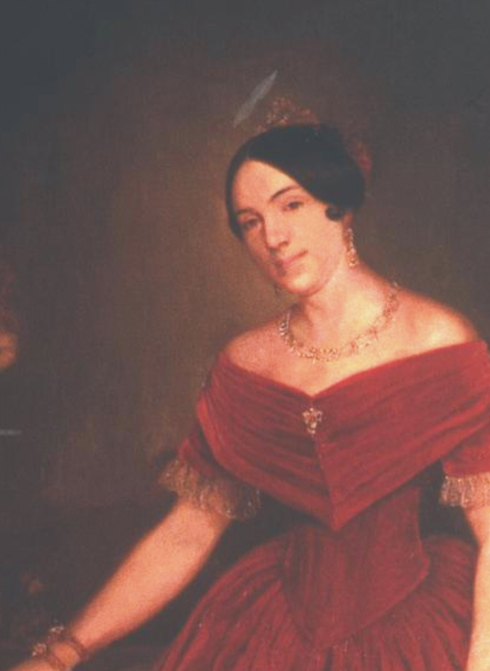 Annotation
Manuela Rosas (1817-1898), the daughter of Juan Manuel de Rosas, emerged as one of the most important political symbols of the early 19th century. In 1838, her mother, Doña Encarcación, died, and her father proclaimed his daughter as the nation's first lady. At the age of 21, Manuela was thrust into a new political role. By all accounts, she was very popular. She regularly participated in gatherings and festivals in honor of her father. Foreign visitors were impressed by how much responsibility was delegated to her. In 1848, one English observer noted: "His daughter is his real minister and secretary, and through her it is easy to convey any communication that it may be wished to make. She is amiable, apparently kind hearted and affectionate. Her manners and appearance are graceful, though she is no longer pretty. Her adoration for her father amounts to passion."
In 1840, Prilidiano Pueyrredon (1823-1870), an Argentine artist known for painting images of everyday life, was commissioned to paint Manuela as the embodiment of her father's brand of Federalism. One thing that is striking about this painting is the use of the color red. All citizens of Argentina, especially young people, were expected to wear red as part of their clothing in order to symbolize support for the regime. Those who did not often faced public scorn, imprisonment, and fines. This stood in stark contrast to Unitarians, who advocated wearing celestial blue. Interestingly, Manuela also became an important symbol for Unitarians. Propagandists often depicted her as an unwitting political tool for the regime or a victim of her father's sexual abuse. In his scathing 1851 essay, "Manuela Rosas," José Mármol argued that Manuela, like many young supporters of the Rosas regime, could actually be redeemed through education. In 1852, she accompanied her father in exile in Great Britain and later died there in 1898.
This source is a part of the Parents, Children, and Political Authority in 19th century Argentina teaching module.
Credits

Image reprinted in Marmol, Jose. Manuela Rosas y otros escritos poliìticos del exilio. Buenos Aires: Taurus, 2001. Annotated by Jesse Hingson.
How to Cite This Source
"Manuelita," in World History Commons, https://worldhistorycommons.org/manuelita [accessed December 7, 2023]