Primary Source
Hangzhou elites in 1935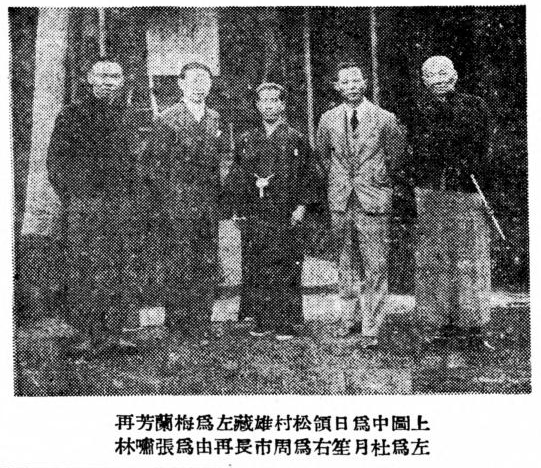 Annotation
The image shows an eclectic group of elites in Hangzhou in 1935, including Shanghainese gangster-businessmen Du Yuesheng and Zhang Xiaolin, Peking Opera star Mei Lanfang, Mayor of Hangzhou Zhou Xiangxian, and Japanese Consul at Hangzhou Yuzo Matsumura. Mei, Du, and Zhang were visiting Hangzhou to gather and donate funds for flood and poverty relief in the region. Though based in Shanghai, Du and Zhang had networks extending throughout the Jiangnan region, including in Hangzhou, where Zhang got his start. Though not as well-known or industrialized as nearby Shanghai, Hangzhou was also partially under a regime of foreign concessions following the Treaty of Shimonoseki in 1895, and Japanese interests were especially strong there.
Questions for students include: Why would gangsters engage in philanthropy? What do these philanthropic efforts tell us about the power/weakness of the central government at this time? Why would Chinese politicians, actors, and gangsters work so openly with a representative of the government of Imperial Japan, which at this time was invading and occupying larger and larger sections of northern China?
Credits

Global Press Archive, Center for Research Libraries, Global Resources Network

Annotation by Steven Pieragastini. Pieragastini is a Lecturer in History at Whittier College. He received his PhD in History from Brandeis University in February 2017. His book manuscript based on his dissertation focuses on the history of the Catholic Church in modern China and its relationship with the Chinese State. He has also published on the history of universities in Shanghai and the intersection of imperial projects in China's borderland regions.
How to Cite This Source
"Hangzhou elites in 1935," in World History Commons, https://worldhistorycommons.org/hangzhou-elites-1935 [accessed December 7, 2023]