Primary Source
The Dance of Death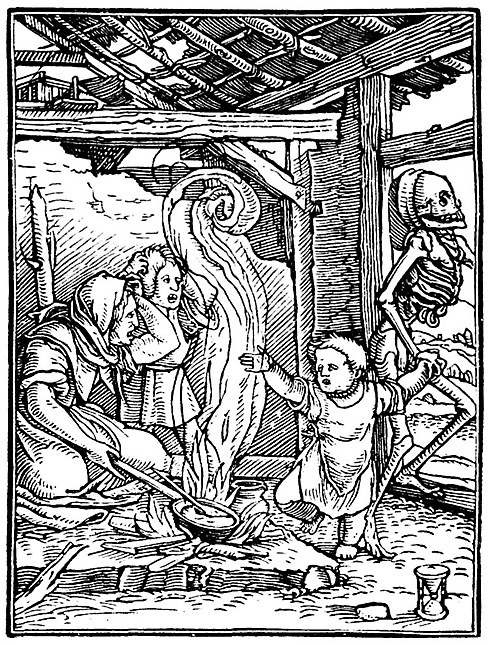 Annotation
Children are not frequent subjects of medieval art, but the figure of the child does occur in a medieval artistic and literary form known as the Danse macabre or Dance of the Dead. Originating before 1348, this art form was not the result of the plague epidemics, but medieval artists found the iconic image a useful means to express the morbid and anxious views of death prevalent in the later medieval and early modern periods. Poems and murals painted on the walls of churches depicted Death, portrayed by skeletons, as drawing all members of society, from the highest secular and religious officials, down to the lowest, such as the peasant, beggar, and child, into a deadly dance to the grave. The human subjects express their dismay as intractable Death is not swayed by their riches or pleas for mercy. Although, again, this artistic form is not directly related to plague, it can be noted for our purposes that it is death that separates the child from his or her family and not the family that has abandoned the child to die. In this woodcut, Death takes a child snatched from his family and home.
This source is a part of the Children during the Black Death teaching module.
Credits

Holbein, Hans. "The Dance of Death." Woodcut, before 1538. Facsimile, London, 1892. Annotated by Shona Kelly Wray.
How to Cite This Source
"The Dance of Death," in World History Commons, https://worldhistorycommons.org/dance-death [accessed October 1, 2023]