Primary Source
Chamber of Commerce Newspaper from Guangzhouwan, China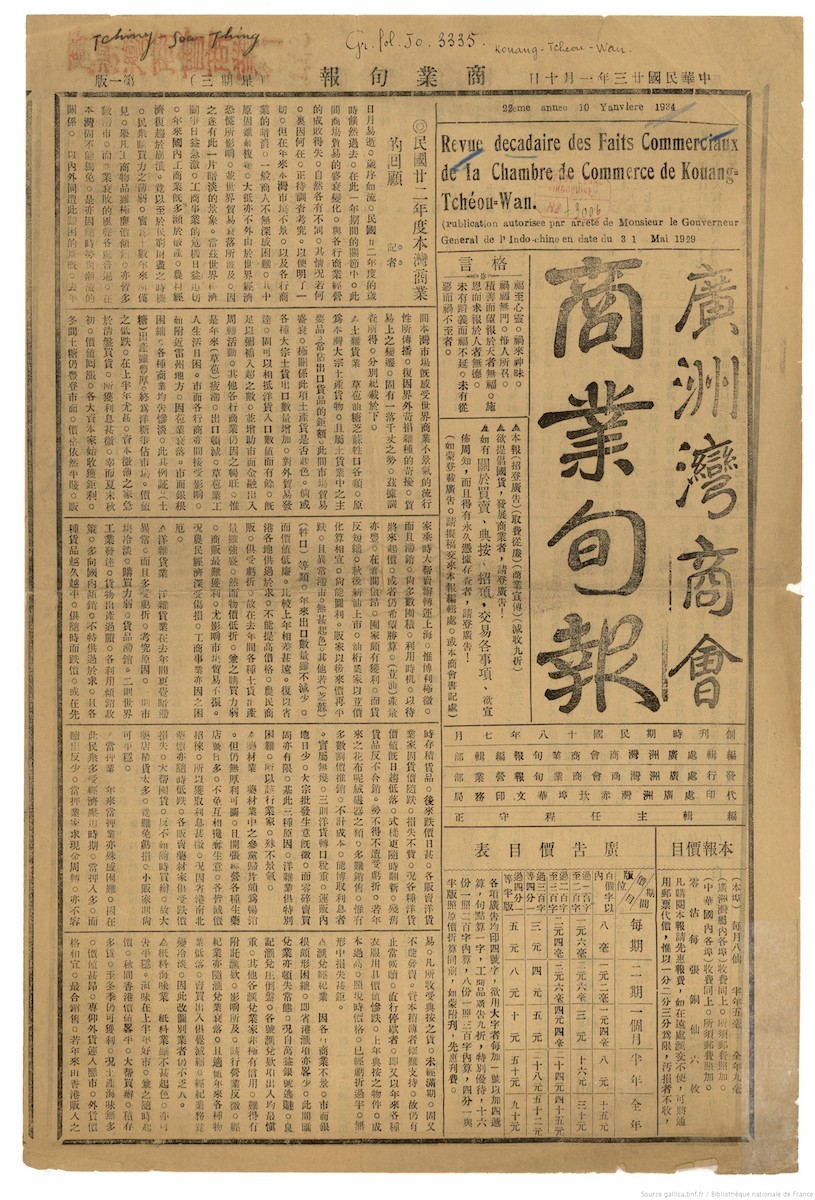 Annotation
The image is of the front page of a newspaper (商業旬報 Shangye xunbao) published in 1934 by the Chamber of Commerce in Guangzhouwan (廣州灣商會 Guangzhouwan shanghui). Guangzhouwan was a territory on the Leizhou Peninsula in southern China that the French Republic leased from the Qing Dynasty at the end of the nineteenth century. Guangzhouwan fit into a broader scheme to expand French influence in southern China from their new acquisitions in Tonkin, though it never nearly lived up to its billing as a "French Hong Kong." Questions for students might include: What does the language used in the document tell us about the composition of commercial interests in the leased territory? What does the newspaper tell us about the power relations between the French and the local population?
This source is part of the colonialism and local power teaching module. 
Credits

Bibliothèque nationale de France, département Droit, économie, politique, GR FOL-JO-3335, ark:/12148/bpt6k940059x Annotation by Steven Pieragastini. Pieragastini is a Lecturer in History at Whittier College. He received his PhD in History from Brandeis University in February 2017. His book manuscript based on his dissertation focuses on the history of the Catholic Church in modern China and its relationship with the Chinese State. He has also published on the history of universities in Shanghai and the intersection of imperial projects in China's borderland regions.
How to Cite This Source
"Chamber of Commerce Newspaper from Guangzhouwan, China," in World History Commons, https://worldhistorycommons.org/chamber-commerce-newspaper-guangzhouwan-china [accessed December 5, 2023]