Primary Source
Bronx Schoolyard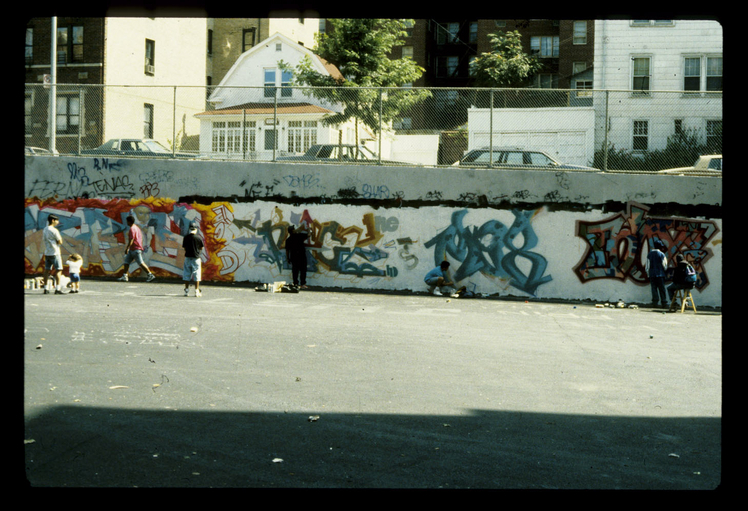 Annotation
From left to right, this photograph shows four graffiti artists at work on a collaborative "production" in a Bronx schoolyard: DEATH, NIC 1, MEX, and NOX. A "production" is a planned, multi-artist work typically unified by a visual theme in the background that is usually painted last, after each artist has finished with their name. The artist who organized this production whitewashed the wall the evening before, and for this production, also produced official-looking (but false) documents with signatures stating that the artist had the school principal's permission to paint. The documents were enough to convince three separate police squads that drove into the yard during the seven-hour painting event.
Although some artists sketch their works on paper before executing them on a wall, most improvise on the spot unless the work is accompanied by "characters" (figures, often borrowed from popular culture sources like movies and comic books). A sketch of a "Karate Kid" character can be seen on the far left work, near the fellow in the red shirt. Also, the sketch and fill-in process of creating larger pieces is evident in the two works-in-progress on the left (DEATH and NIC 1). Note that the production is a social event, with friends and admirers (and their children) watching, and a boom box playing music.
This source is a part of the Children and Daguerreotypes (19th c.) teaching module.
How to Cite This Source
"Bronx Schoolyard," in World History Commons, https://worldhistorycommons.org/bronx-schoolyard [accessed September 28, 2023]