Methods
Analyzing Oral Histories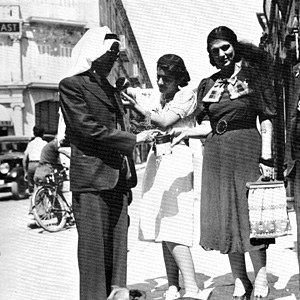 Overview
The modules in Methods present case studies that demonstrate how scholars interpret different kinds of historical evidence in world history. This module is based on a series of oral history interviews conducted in the mid-1990s. The interviewees were Palestinian women who grew up under the British Mandate and were active in the Palestinian Women's Movement. Analyzing the interviews offers an important look at the lives of these women, who were often educated and very active in their communities, and at the process of working with oral history. The primary sources referenced in this module can be viewed in the Primary Sources folder below. Click on the images or text for more information about the source.
Primary Sources

Fundraising for Palestinian Families in Jerusalem

Annotation

This is a photograph of Palestinian women activists, shedding light on the political experience of women in Palestine. The leadership of the movement ended up mostly being single women because most of the women involved in the movement were married, had family responsibilities. This source is a part of the

Analyzing Oral Histories

methods module.

Interview with Sa'ida Jarallah

Annotation

Read the excerpt on this page of an oral history interview taken by Professor Ellen Fleischmann. In it, Sa'ida Jarallah, one of the first Palestinian Muslim women to study abroad, discusses her life, especially the social and cultural aspects of growing up as a young woman in the 1930s. This source is a part of the

Analyzing Oral Histories

methods module.
Credits

Ellen Fleischmann received her PhD from Georgetown University and is Associate Professor of History at the University of Dayton. She is author of The Nation and its "New" Women: The Palestinian Women's Movement, 1920-1948, and has written numerous articles on women in the Middle East.

Grateful Acknowledgement is made to the following institutions and individuals for permission to publish material from their collections:

Aziz al-Azmeh, Private collection
Orayb Najjar, Palestine Exploration Fund
Walid Khalidi, Before Their Diaspora: A Photographic History of the Palestinians,1876-1948 (Washington, D.C.: Institute for Palestine Studies, 1991), and the
Institute for Palestine Studies, http://www.palestine-studies.org/
For:

Palestinian women, Jerusalem, 1930s
Jerusalem Girls' College, c. 1920
Fundraising for Palestinian families, Jerusalem, 1936
Boarders at Schmidt Girls' College, Jerusalem, 1947
Schmidt Girls' College, Jerusalem, 1947
Palestinian conference, 1930
Palestinian Delegation, London, 1930
Prominent Muslim family, Jaffa, c. 1925
Palestinian village family, 1927
Muslim wedding, near Ramleh, 1935
Palestinian students, London, 1928
How to Cite This Source
"Analyzing Oral Histories," in World History Commons, https://worldhistorycommons.org/analyzing-oral-histories [accessed September 28, 2023]