Primary Source
Wooden Stockade on Penang Island, 18th century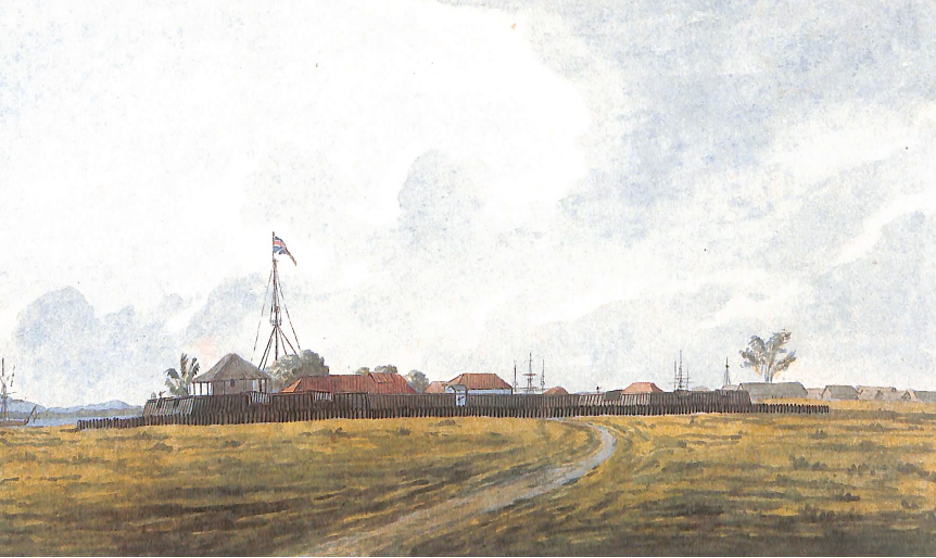 Annotation
This stockade was painted by Captain Elisha Trapaud in 1787 and the painting is preserved in the India Office Library in London. Construction of the fort started in August 1786 as soon as Francis Light had taken possession of Penang Island (part of present day Malaysia) away from the Kedah Sultanate. This use of timber is similar to the construction material used to build Malay forts that were in existence during the period. Fort Cornwallis remained as a wooden stockade until 1794 when Francis Light rebuilt it in stone shortly before his death. Over the course of the 19th century many additions were made to the fort until it assumed its present shape. The picture painted by Elisha Trapaud is one of the few depictions of the fort while it was still a wooden structure.   
This source is part of the building materials and transnational encounters teaching module. 
Credits

Capt. Elisha Trapaud, Fort Cornwallis, West Face, c. 1787. Watercolour with grey was border; 25.0 x 41.5 cm. (India Office Library, London). Reproduced from: Penang Views 1770-1860. Lim Chong Keat. Page 27.
How to Cite This Source
"Wooden Stockade on Penang Island, 18th century," in World History Commons, https://worldhistorycommons.org/wooden-stockade-penang-island-18th-century [accessed May 27, 2023]