Primary Source
Soviet Map, 1982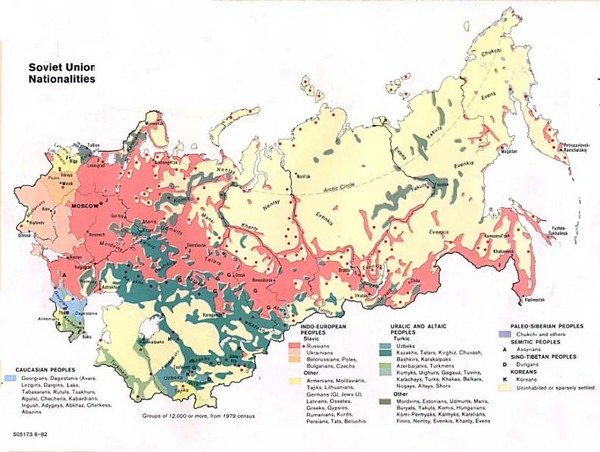 Annotation
This map provides one representation of the national composition of the Soviet Union in the early 1980s. As the distribution of colors indicates, each of the major ethnic groups occupied specific regions of the country. Although the different ethnicities were concentrated in specific regions, it is also clear that the entire country was multinational. The distribution of ethnic groups shown here indicates how difficult it was to manage the competing interests of these group in a large state like the Soviet Union.
This source is a part of the Nationalities and the Breakup of the Soviet Union, 1989-2000 teaching module.
Credits

Washington, D.C.: Government Printing Office, 1982. Accessed May 6, 2008.
How to Cite This Source
"Soviet Map, 1982," in World History Commons, https://worldhistorycommons.org/soviet-map-1982 [accessed December 5, 2023]