Primary Source
The School Journal, 1907 - [Magazine]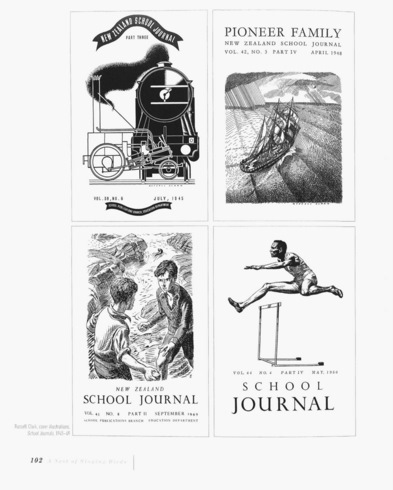 Annotation
Although early issues of the School Journal drew extensively on a British literary heritage and reinforced imperial values, even in its first year of publication by the New Zealand Department of Education (1907), there were stories, articles and poetry authored locally and written about the colonial heritage and environment. That early creativity was submerged during and after World War I by preoccupations of empire, patriotism, nationhood, grammar and good behavior. Yet even in this period, when the four-part School Journal contained few illustrations and was mundane in both appearance and content, contemporary accounts emphasized that its monthly distribution in primary schools, free of charge, was eagerly awaited by many children who had little access to books or libraries.
In 1939, however, under the inspired direction of newly-appointed Director of Education, Clarence Beeby, a School Publications branch was founded within the Department and the School Journal was transformed. Its primary focus was clear and consistent: to foster a love of reading and to engage children's curiosity and imagination. With editorial direction largely by literary figures and regular contributions from many of the country's leading writers and artists, curriculum issues and creative impulses have continued to co-exist in the publication. While not rigidly formulaic, the content of each Journal has generally been 5-10% poetry, 40-55% stories, 15-20% articles, and 15-20% plays. The mixture of fantasy, realism, folk tales, and historical topics has also been carefully balanced. Contemporary social trends are reflected in both text and image, as with the Journal's recognition of immigration patterns and the greater cultural diversity of New Zealand society since the 1970s. Topics warranting more detailed treatment, such as the Treaty of Waitangi, have generally been explored by contract writers in more detailed Bulletins, also produced by School Publications (until 1989 and thereafter in the newly-created entity, Learning Media).
In his recent centennial history, A Nest of Singing Birds: 100 Years of the New Zealand School Journal (Learning Media, Wellington, 2007), author Gregory O'Brien noted the contrasting sets of values which had been explored at different phases of the publication's existence. In 1908, and reproduced in 1917, the virtues extolled were "faith, courage, duty, self-discipline, fair dealing, even justice, good citizenship, loyalty, patriotism and sympathy," all to be applied in the service of Empire. In 2005, however, the educational values to be upheld in the Journal, without being overtly didactic, were those of: "diversity, community, respect and care, equity, integrity, environmental sustainability, enquiry and curiosity, and excellence." Both the visual and textual content, of the post World War II issues particularly once color could be used, reflect the major cultural and social changes that have occurred in New Zealand and elsewhere during these decades yet the primary emphasis remains that of encouraging children to engage imaginatively with the world around them.
Credits

Four hand-drawn illustrations from School Journals 1945, 1948, 1949, 1950, published by Learning Media Limited for the Department of Education, Wellington. Copyright Crown, New Zealand. This composite of Russell Clark cover images is reproduced from Gregory O'Brien, A Nest of Singing Birds, Learning Media, Wellington, 2007, p. 102. Annotated by Jeanine Graham.
How to Cite This Source
"The School Journal, 1907 - [Magazine]," in World History Commons, https://worldhistorycommons.org/school-journal-1907-magazine [accessed December 10, 2023]