Primary Source
New Zealand, Maoris at Their Talking House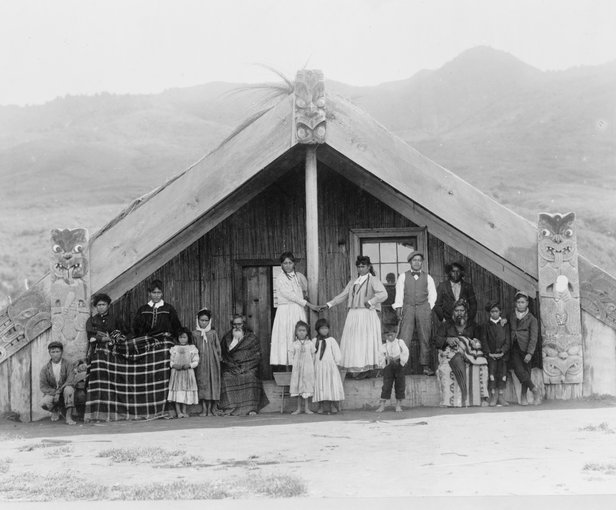 Annotation
The photograph shows Maori men, women, and children arranged for a group portrait on the porch of a whare or wharenui (meeting house) in New Zealand. This ceremonial structure, also called a talking house, and the marae (grassy area in front of it) are central to Maori social order and culture. These typical sacred structures are monuments to tribal ancestors and places that bridge past and present generations. The gathering of children shown in the photograph represents the transmission of a sense of belonging to the lineage and cultivation of that linkage in the new generation. The house represents the sheltering, physical or bodily presence of the family's ancestors in the life of their living descendants. Each part of the structure symbolizes a tribal ancestor's being. At the apex of the gable is a carving called the koruru, or "face of the ancestor." The ridgepole represents the spine. The carved ends of the bargeboards represent the hands of the ancestor, with its design split into fingers. The roof with its outstretched arms embraces the generations of the family within.The interior rafters holding up the roof are the ribs, and the interior space represents the chest and belly where people gather. Carvings and woven wall decorations are also symbolic of the ancestral lineage, recording history through their art. The meeting of the family in the house is an act of remembrance and solidarity extended to all of its members. In the shadow of the ancestors, children would witness important family celebrations and discussion of important decisions.
This historic photograph is featured on a New Zealand postage stamp because of its importance as an element of indigenous cultural heritage. It was taken between 1880 and 1920 by Frank G. Carpenter (1855-1924) or Frances Carpenter (1890-1972). He was an American traveler and writer on cultural anthropology and geography and his daughter Frances illustrated his writings with photographs. Their collection of about 16,800 photographs and 7,000 glass and film negatives is currently housed at the Library of Congress, Washington DC.
Credits

Frank and Frances Carpenter Collection, Library of Congress, http://hdl.loc.gov/loc.wdl/dlc.496 (accessed March 5, 2009). Annotated by Susan Douglass.
How to Cite This Source
"New Zealand, Maoris at Their Talking House," in World History Commons, https://worldhistorycommons.org/new-zealand-maoris-their-talking-house [accessed May 27, 2023]