Primary Source
"The Money Market" Article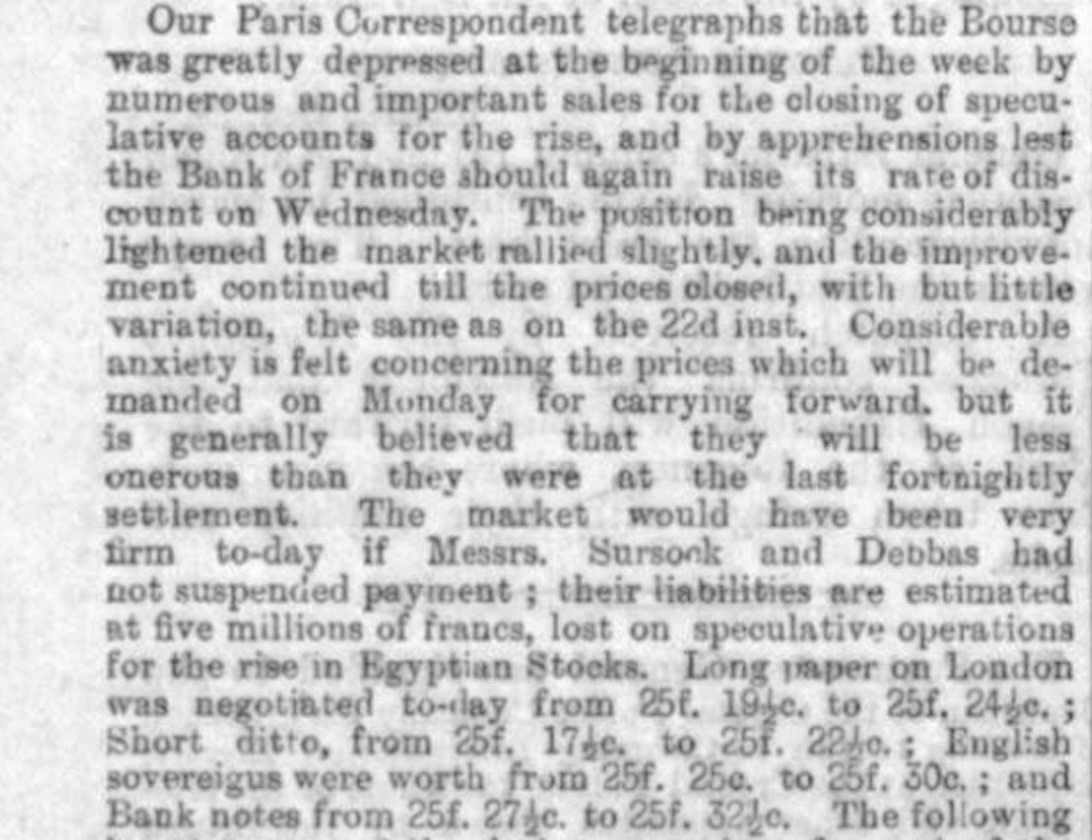 Annotation
The London Evening Standard reported in 1881 that one transaction from the Sursuq (Sursock) and Debbas families caused the French stock market to decline. The Levantine companies had accumulated significant capital from silk and futures trading throughout the mid-nineteenth century. By the late-nineteenth century the Beirut-based family companies wielded so much economic, political, and social power that they could dictate the terms of the global market with one bad business decision. When the Levantine companies lost money, the global market also suffered a loss. This source is a part of the The Forgotten Beirut-based Companies in the Global History of Capitalism teaching module.
Text

Our Paris Correspondent telegraphs that the Bourse was greatly depressed at the beginning of the week by numerous and important sales for the closing of speculative accounts for the rise, and by apprehensions les the Bank of France should again raise its rate of discount on Wednesday. The position being considerably lightened the market rallied slightly, and the improvement continued till the prices which will be demanded on Monday for carrying forward, but it is generally believed that they will be less onerous than they were at the last fortnightly settlement. The market would have been very firm to-day if the Messrs. Sursock and Debbas had not suspended payment; their liabilities are estimated at five millions of fracs, lost on speculative operations for the rise in Egyptian Stocks. Long paper on London was negotiated to-day from 25f, 19 ½c., to 25f, 24 ½c.; Short ditto, from 25f, 17 ½c, to 25f, 22 ½c; English sovereigus were worth from 25f, 25c. to 25f, 30c; and Bank notes from 25f, 27 ½c. to 25f, 32 ½c.
Credits

The London Evening Standard. "The Money Market." Oct. 31, 1881.
How to Cite This Source
""The Money Market" Article," in World History Commons, https://worldhistorycommons.org/money-market-article [accessed December 7, 2021]