Primary Source
Millennium Development Goals: Primary School Enrollment 2009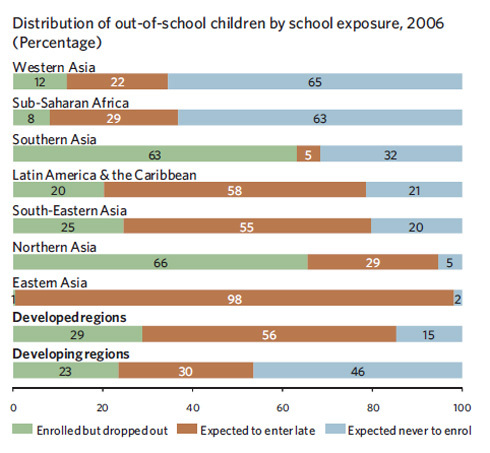 Annotation
The Millennium Development Goals (MDGs) are eight goals related to poverty, education, gender equality, health, environmental sustainability and development set in the year 2000 at the UN Millennium Summit, and adopted by 189 nations. The eight MDGs are associated with 21 quantifiable targets, tracked by 60 statistical indicators in annual reports issued by the United Nations Development Programme (UNDP). The goals target attainment in the year 2015. Country-by-country data is also available.
Universal primary education in the context of the Millennium Development Goals means that all children have access to free, compulsory education from grades 1 through 5. Statistical indicators include net enrollment in school by children of the appropriate age, the proportion of pupils enrolled in first grade who reach grade 5, and the literacy rate of 15 to 24-year-olds.
The first chart tracks achievement of the goal based on the percentage of school-age children currently enrolled in school by world region. It shows that the most significant gains during the past seven years covered in the 2009 MDG report have taken place in Sub-Saharan Africa and South Asia. Smaller gains were achieved in Western Asia, Northern Africa, and the CIS, or Commonwealth of Independent States, the former Soviet Union. No significant gains were recorded in Southeastern Asia and Latin America/the Caribean, both of which are near 95% school enrollment. Eastern Asia and developed regions of the world in the aggregate showed slight declines in enrollment.
The second chart looks at the roughly 10 percent, or 72 million children, who are not in school. Three groups are identified, including those who dropped out of school for some reason, such as inability to pay for uniforms or books, child labor, distance from the school or unsafe conditions for travel to school. Northern and Southern Asia show the largest percentages of drop-outs. Another group represents delayed school entry, which is highest in Eastern Asia, Southeastern Asia, and Latin America. The third group shows the percentage of children who are not expected to have the opportunity to enroll. Over 60% of those not in school in Western Asia and Sub-Saharan Africa may never attend school. In Northern and Eastern Asia, in contrast, school enrollment is expected for all but 5 and 2 percent of school-age children, respectively. The chart masks gender differences in those who are out of school, where dropout rates are higher for boys, but more girls in certain regions may not have access to education. Ethnic minorities often have decreased access to education.
The report concludes that at current rates, it is unlikely that the 2015 goal can be met, especially with the current global economic decline. Falling rates of investment in school construction, less aid to education, and scarcity of teachers make improvement difficult. Failure to meet education goals is worrisome because education levels impact child mortality, health, employment, and income prospects for youth and adults.
Credits

United Nations, Millennium Development Goals Report 2009, "MDG Report 2009 ENG.pdf (application/pdf Object)." http://www.un.org/millenniumgoals/pdf/MDG%20Report%202009%20ENG.pdf (accessed July 7, 2009)
How to Cite This Source
"Millennium Development Goals: Primary School Enrollment 2009," in World History Commons, https://worldhistorycommons.org/millennium-development-goals-primary-school-enrollment-2009 [accessed September 28, 2023]