Primary Source
Max und Moritz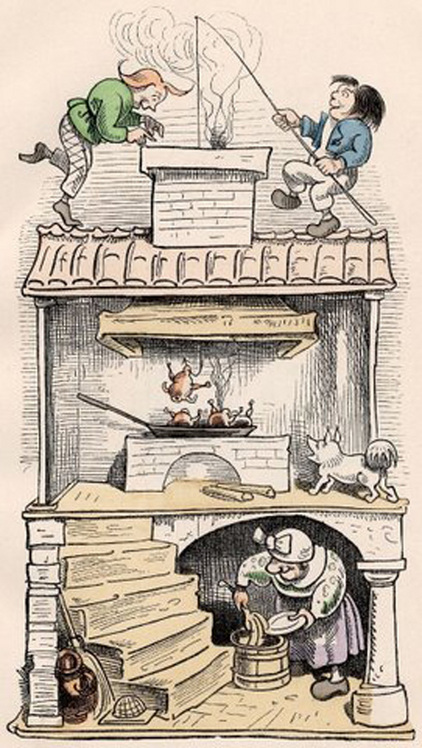 Annotation
Written and illustrated by German painter and poet, Wilhelm Busch, Max und Moritz (1865) is a children's story written in doggerel verse and illustrated in a comic-like style about two unscrupulous boys who taunt adults with their sadistic pranks.
In this illustration, Max and Morris have already tricked the widow into cooking chickens they are now trying to snag by lowering a fishing rod down the chimney. Hearing the commotion, her barking dog summons the widow from below. The story ends when the widow beats the dog she assumes has eaten the chickens that have vanished from her stove. At the end of the book, the boys get their comeuppance: they are ground into grain and devoured by ducks.
The gruesome ending is in keeping with the strict Prussian-era pedagogy that emphasized ethics, duty, discipline, and obedience. It also influenced Heinrich Hoffmann (1809-1894) in whose Der Struwwelpeter (1845) children were violently punished for their bad behavior. Both works also used "Knittelvers," rhymed couplets of irregular versification (eight or nine syllables often with four stresses per line). Knittelvers came into German literature most strongly in comedies of the 16th century. The comedic heritage and sing-song quality of Knittelvers made the rhyme scheme most appropriate for children's literature that was both humorous and didactic.
How do these mischievous boys compare with other pranksters elsewhere in the world? Why are they often young males? What have mischief-makers and their pranks meant to children? What purposes have they served to adults and society?
Credits

Wilhelm Busch, Max und Moritz; Eine Bubengeschichte in sieben Streichen. Munchen, Germany: Verlag von Braun und Schneider, 1906). Available online at The Project Gutenberg (accessed November 6, 2009). There have been other translations of Max & Moritz in English including: http://www.has.vcu.edu/for/mm/mmmenu.html (accessed November 6, 2009). Annotated by Miriam Forman-Brunell and Luke Springman.
How to Cite This Source
"Max und Moritz," in World History Commons, https://worldhistorycommons.org/max-und-moritz [accessed December 8, 2023]