Primary Source
Joyous Celebration at the New Year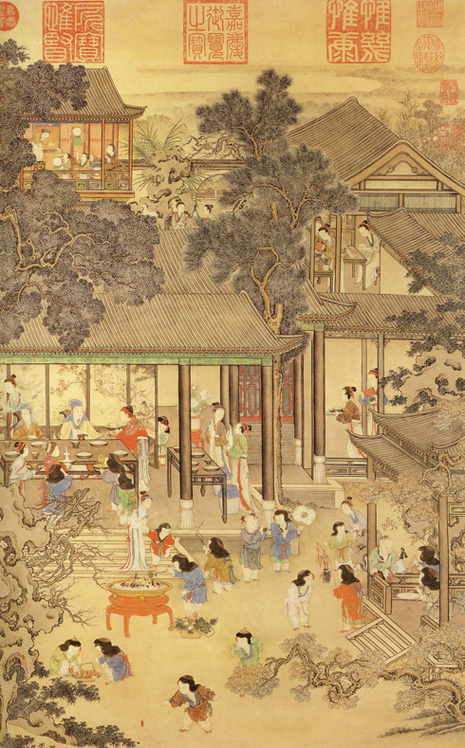 Annotation
This image offers an artistic view of a household celebrating the New Year's holiday. Here we find children at play amidst a scene of domestic joy and prosperity for an elite family of the Qing dynasty (1644-1911). The detail of the image is rich in its representation of material culture, shared domestic space, as well as visions of play and the culinary endeavor of a grand feast. We might inventory the different kinds of toys that can be seen here and consider the ways in which the children of that day imagined and made use of them. On the right side of the main outdoor courtyard, for example, we see two children at play with what seems a puppet hanging from a pole. The figure may have represented a character from a famous tale or historic play. What might children have gained from play with such kinds of figures? Notice also the contrast in this image between the many children at play and those who are also engaged in a parallel act of serving their elders (see, in particular, the figures at the table.) What might this shared imagery of play and respectful or filial service to parents have meant to those viewing the image during the Qing dynasty itself? It is helpful to consider the ways in which these specific scenes of play overlap with those representing other kinds of household relationships and roles.
This source is a part of the Children in Late Imperial China, 900-1930 teaching module.
Credits

Yao Wen-han, "Joyous Celebration at the New Year," Collection of the National Palace Museum, http://www.npm.gov.tw/exh98/newyear/img_item_o3_en.html (accessed May 12, 2009).
How to Cite This Source
"Joyous Celebration at the New Year," in World History Commons, https://worldhistorycommons.org/joyous-celebration-new-year [accessed December 8, 2023]