Primary Source
Child's Life Course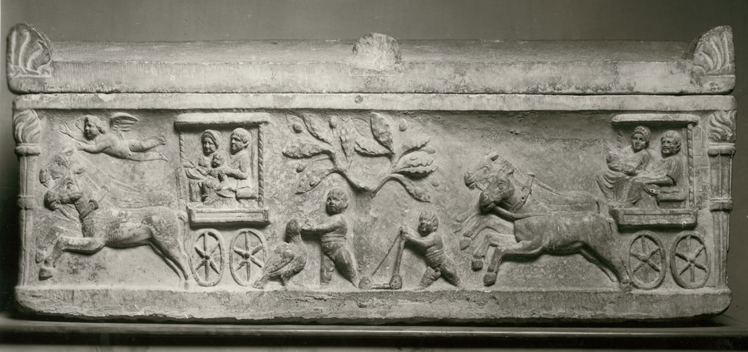 Annotation
Death is part of every society, but the rituals and objects surrounding death have varied across centuries and continents. They can often reveal many things about the role of children and families within a culture, from the nature of grieving to representations of childhood, from artistic preferences to child rearing norms. Dating from the first half of the 2nd century, CE, this Roman marble sarcophagus was an expensive funerary item created to commemorate the death of a child. The sarcophagus depicts an infant, in the arms of a parent riding in a carriage, on the far right of the stone. The center of the stone shows a young child at play with a wheeled toy and moving to the left, an older child with a pet goose. The last scene, on the far left, signifies death. The parents ride in a carriage with a child between them. The torches symbolize a funeral, as does the winged Cupid.
This source is a part of the Roman Children's Sarcophagi teaching module.
Credits

Child's Life Course [Sarcophagus]. Carriage ride, games, death. Rome, early 2nd century CE. Museo Nazionale, Rome. Photo: DAI Rome, 1537.
How to Cite This Source
"Child's Life Course," in World History Commons, https://worldhistorycommons.org/childs-life-course [accessed August 6, 2022]