Primary Source
"Aparición de San Isidoro al Rey Fernando el Santo ante los muros de Sevilla" by Francisco de Goya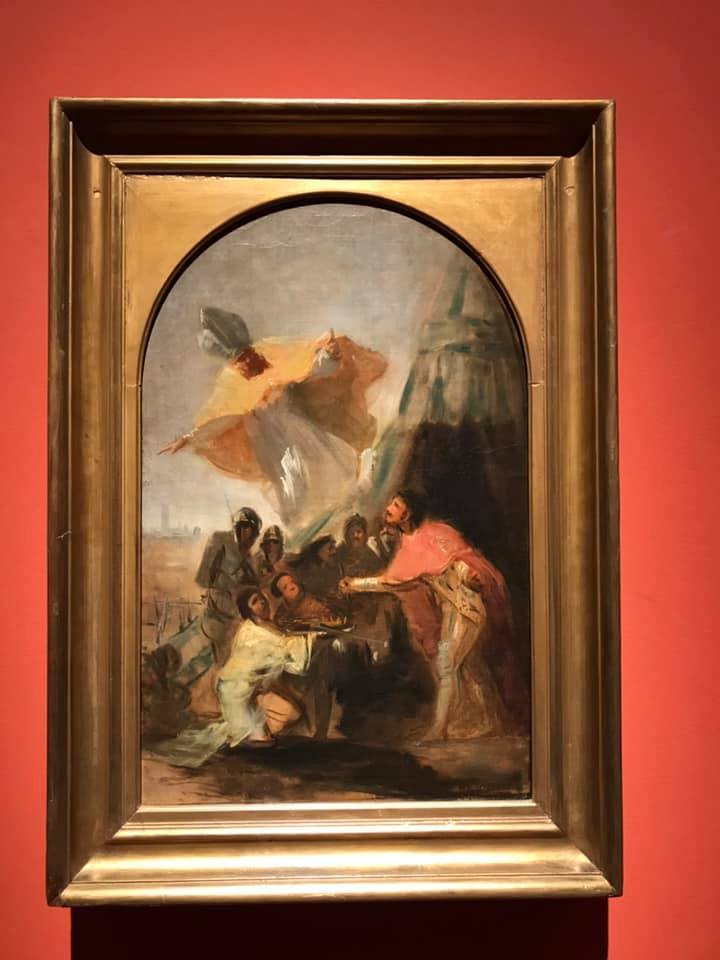 Annotation
This religious painting belongs to the extensive works of Spanish painter Francsico de Goya (1746–1828). Although he grew up in Zaragoza, he trained as an artist in Madrid. There he completed much of his works, even becoming the official portrait painter for the monarchy. This work was a pratice piece that Goya used to prepare for altar that he was to paint in the city of Aragon. Examining the use of color in this artwork helps reveal the perspective of its author, whose worldview became more pessimistic as he grew older and became ill. Here, there is an apparent contrast between darkness (from which King Fernando emerges) and light (emanating from the figure of Saint Isidro above him). The painting also provides insight to the styles of dress that Spaniards used in the late-eighteenth and early-nineteenth century. It is currently housed at the Museo Nacional de Bellas Artes de Buenos Aires, Argentina after likely having been purchased by an elite member of the local community.
Credits

"Commentary on Apparition of Saint Isodoro to Saint King Fernando in front of the walls of Seville (Aparición de San Isidoro al Rey Fernando el Santo ante los muros)." MNBA. July 31, 2021.
Annotated by Brittany Erwin.
Photo by Brittany Erwin.
How to Cite This Source
""Aparición de San Isidoro al Rey Fernando el Santo ante los muros de Sevilla" by Francisco de Goya," in World History Commons, https://worldhistorycommons.org/aparicion-de-san-isidoro-al-rey-fernando-el-santo-ante-los-muros-de-sevilla-francisco-de-goya [accessed December 10, 2023]