Primary Source
Ah! Monsignor!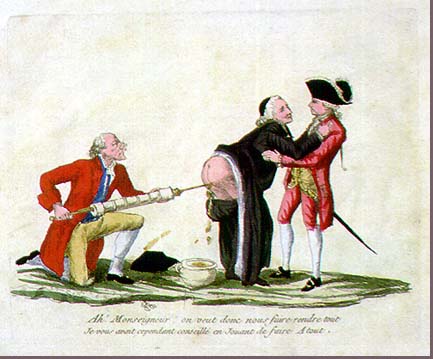 Annotation
Not uncommonly, revolutionary prints invoked excretory humor directed toward those priests who would not swear allegiance to the Revolution. Revolutionaries eliminated on their enemies; the latter might also receive enemas. Of course, in a world of chamber pots everyone got the message loudly and clearly.
Transcription

Title in French
Ah ! Monseigneur ! on veut donc nous faire rendre tout. Je vous avait cependant conseillé de faire atout.
Credits

de Vinck. "Ah! Monsignor! It seems that they want us to give everything back, yet while in the game I had advised you to play trumps," Un siècle d'histoire de France par l'estampe, 1770-1870. Vol. 18 (pièces 2908-3106), Ancien Régime et Révolution.
How to Cite This Source
"Ah! Monsignor!," in World History Commons, https://worldhistorycommons.org/ah-monsignor [accessed August 7, 2022]