Primary Source
Photographs of the St. Stanisław Kostka Church in Warsaw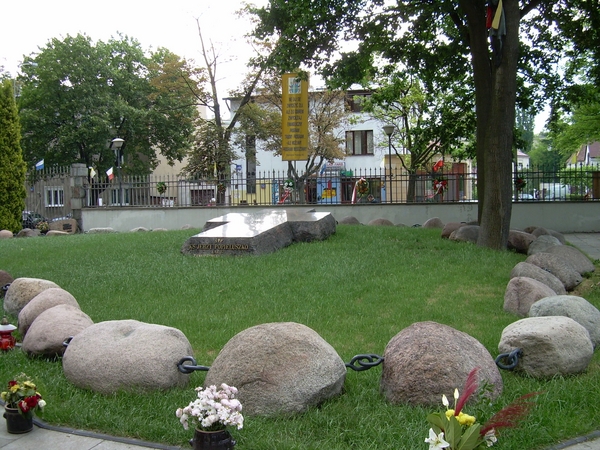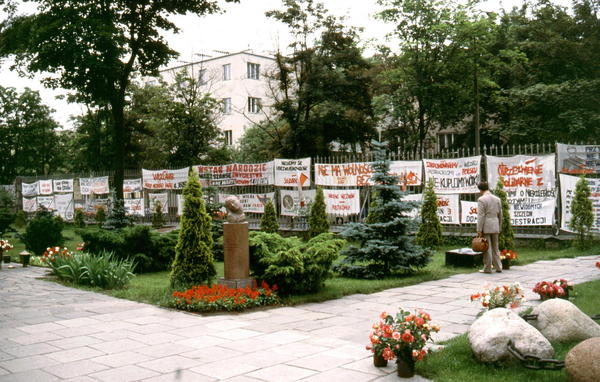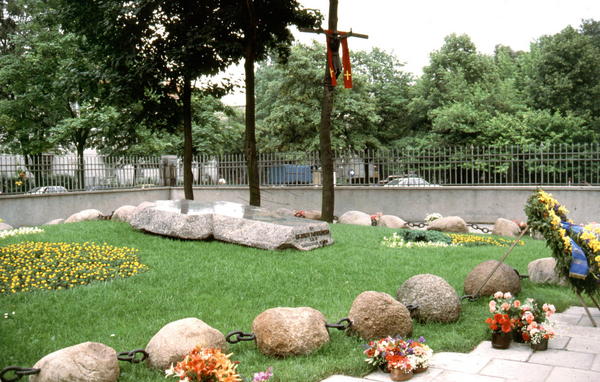 Annotation
Father Jerzy Popiełuszko was one of the most vocal priests involved in the Solidarity movement in the early 1980s. Even after the declaration of martial law in 1981, Father Popiełuszko remained an outspoken opponent of the Communist regime, and his church in the Warsaw suburb of Żoliborz became a gathering point for those who wanted to hear anticommunist sermons. The monthly "Masses for the Fatherland" that Father Popiełuszko held drew crowds that overflowed into the streets. In October 1984, this maverick priest was seized by two security service officers who beat him to death and dumped his body into a river. The public outpouring of anger and sorrow was overwhelming, even under conditions of martial law. The authorities blamed the murder on rogue agents, whom they quickly arrested and imprisoned. The precise responsibility for the killing remains unknown to this day. The shrine pictured here was created after Father Popiełuszko's death. The tombstone is in the shape of a cross, with a chain of stone rosary beads surrounding it. More important, though, were the banners that were placed on the inside fence of his church. The banners were not clearly visible from the street, but once inside the church grounds, visitors were surrounded by posters proclaiming the continued existence of Solidarity. These photos, taken in 1986, show a typical scene. Delegations from all over Poland made pilgrimages to this church, leaving behind banners of their local union chapters. Opposition meetings were held in the basement of this church—indeed, in churches all over Poland—without state intervention.
This source is a part of the The Catholic Church in Poland, 1950-2000 teaching module.
Credits

Photographs courtesy of Brian Porter.
How to Cite This Source
"Photographs of the St. Stanisław Kostka Church in Warsaw," in World History Commons, https://worldhistorycommons.org/photographs-st-stanislaw-kostka-church-warsaw [accessed September 29, 2023]