Primary Source
Photographs from the Papal Visit of 1987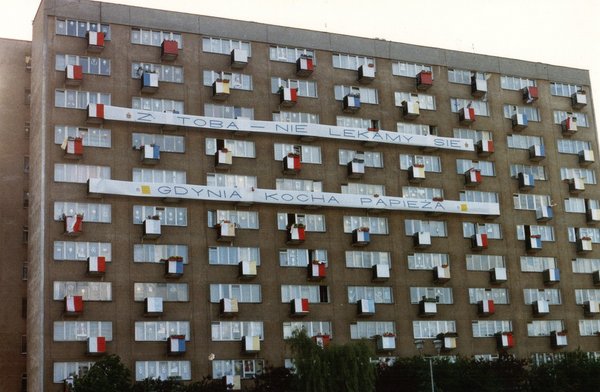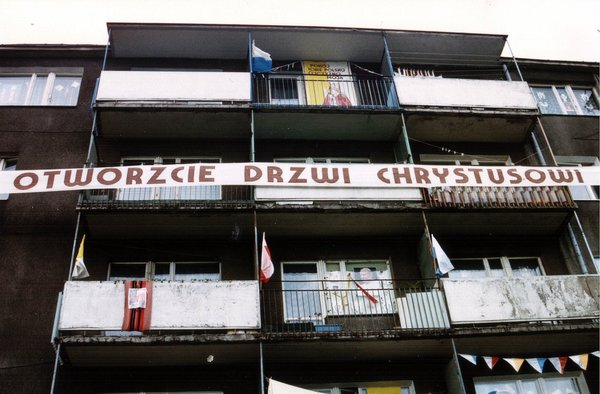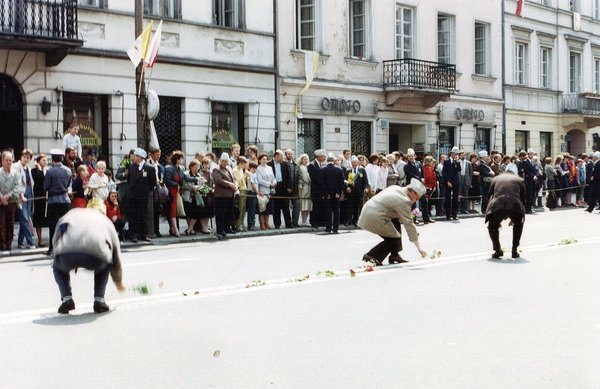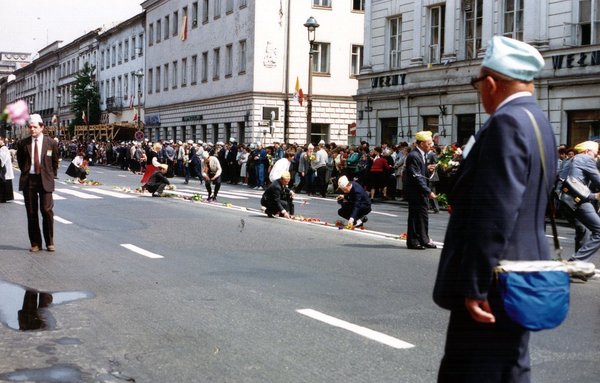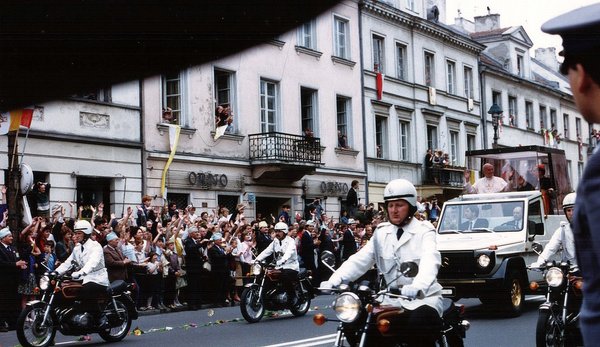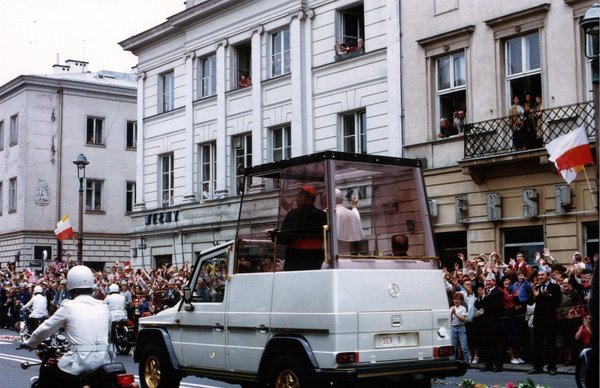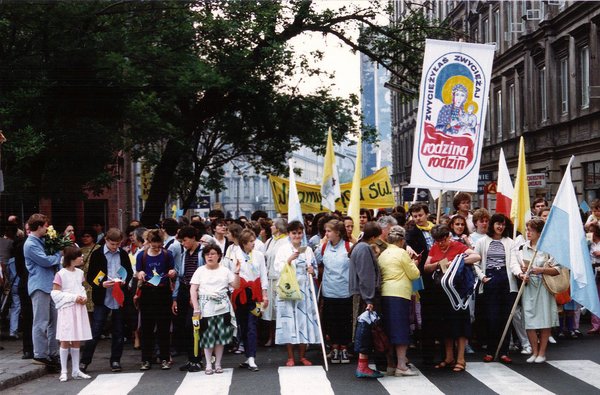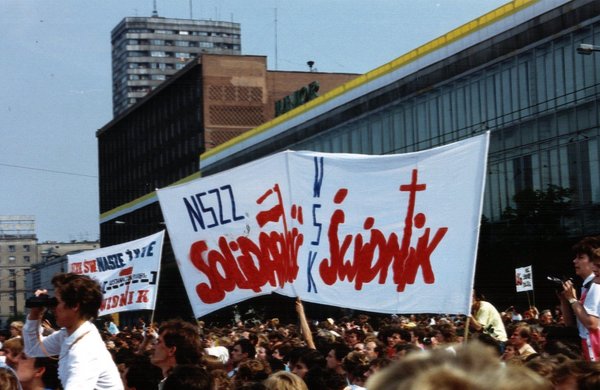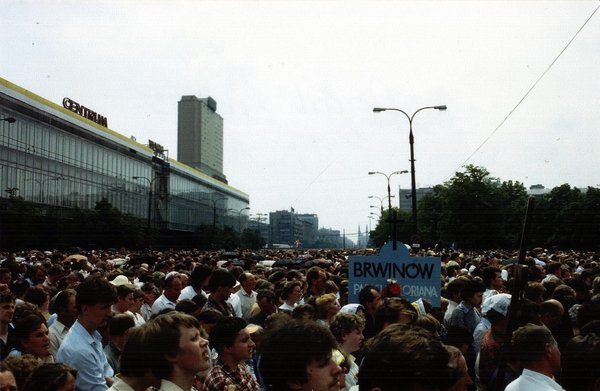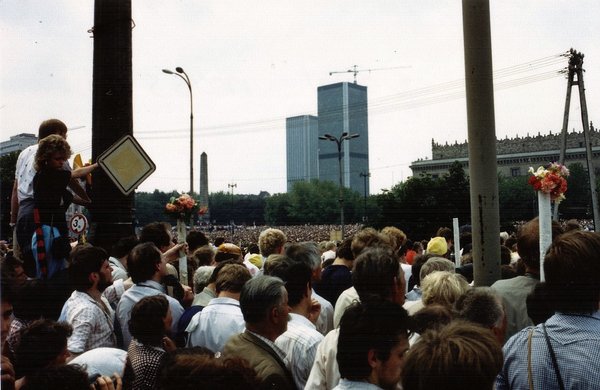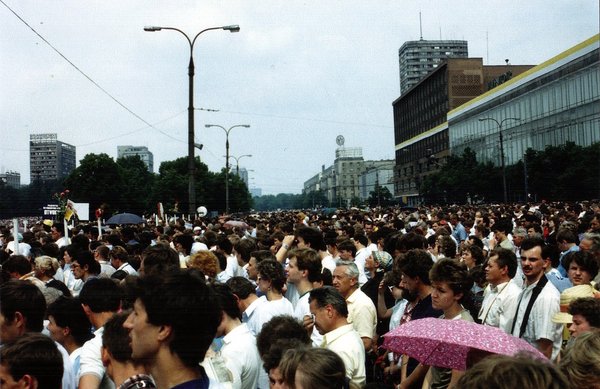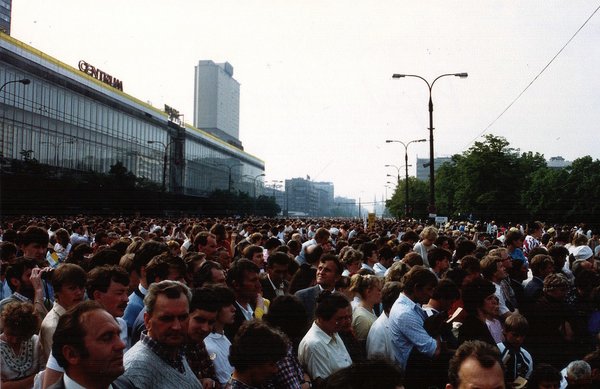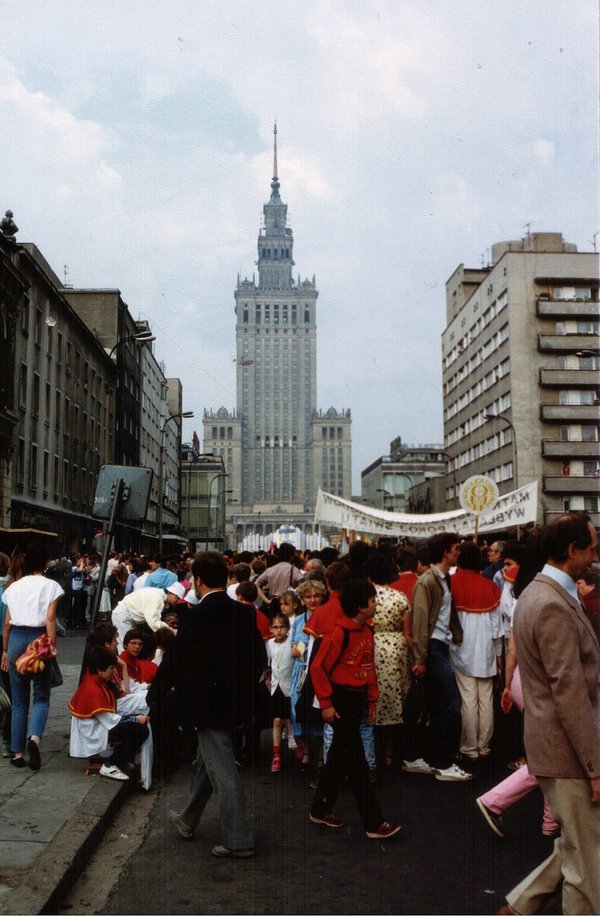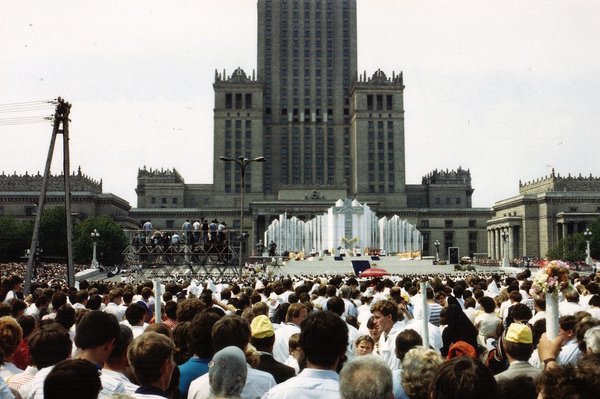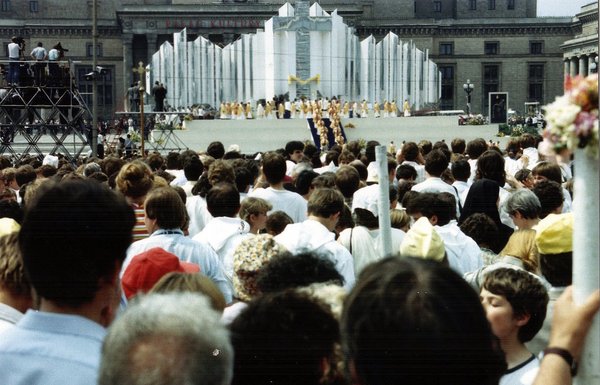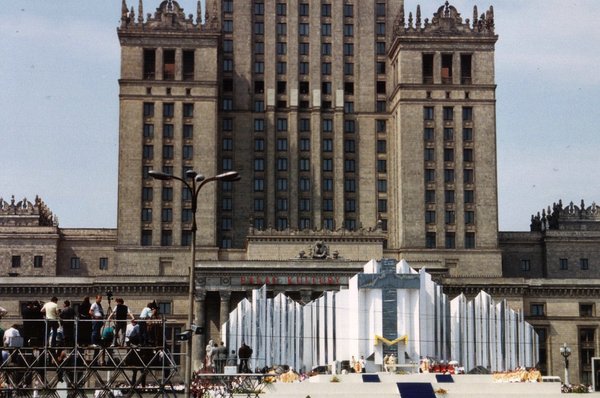 Annotation
From June 8-14, 1987, Pope John Paul II made his third "pilgrimage" to his homeland (he had already visited in 1979 and 1983). As on the first two occasions, life in Poland seemed to stop during his visit, as nearly the entire country (at least, so it seemed) participated in this historic moment. These photographs were taken a week before he arrived, and the buildings were far from any of the Pope's planned routes. The signs read "Open the Door to Christ" and "With you we are not afraid—Gdynia loves the Pope." Throughout the country people decorated their apartments and homes in this way, with hardly a window or balcony anywhere lacking some sign or banner.
When he arrived in Warsaw and drove from the airport to the Primate's palace, a huge crowd turned out to greet him, and flowers were laid out along the street that he was scheduled to travel. This pattern was repeated throughout his visit, wherever he went. Though tens of thousands of people lined the roads just to see him pass by, and millions attended his open-air masses, the entire state apparatus seemed to vanish for those few summer days. Crowd control was managed almost entirely by volunteers (they can be identified by their sky-blue paper hats). Even the motorcycle escorts of the "popemobile" were provided by the Church, not the Communist state.
The site of the Pope's mass in Warsaw was loaded with symbolism. The building in the background is known as the "Palace of Culture and Science," and it was built in the 1950s as a "gift" from Joseph Stalin to the Polish people. From the financing to the design to the actual labor used in the construction, it was entirely a Russian project. For decades it towered over Warsaw as the city's tallest building, and a symbol of the Russian presence. For the Pope's 1987 visit he chose the base of this skyscraper for his Warsaw mass.
A wide variety of banners and signs were carried to the mass by the million or so people who turned out on that hot summer day. A few were explicitly political, as with the Solidarity banner that can be seen in one of the pictures. Most, however, simply announced the name of the parish from which the pilgrims came, or provided an illustration of the Virgin Mary or some other religious symbol.
Perhaps the most noteworthy aspect of the event was the overwhelming size of the crowd, which stretched out as far as the eye could see. Although there were loudspeakers, many people could barely hear what the Pope was saying.
This source is a part of the The Catholic Church in Poland, 1950-2000 teaching module.
Credits

Photographs courtesy of Brian Porter.
How to Cite This Source
"Photographs from the Papal Visit of 1987," in World History Commons, https://worldhistorycommons.org/photographs-papal-visit-1987 [accessed December 6, 2023]