Primary Source
Fertility and Abortion in Czechoslovakia, 1950-2005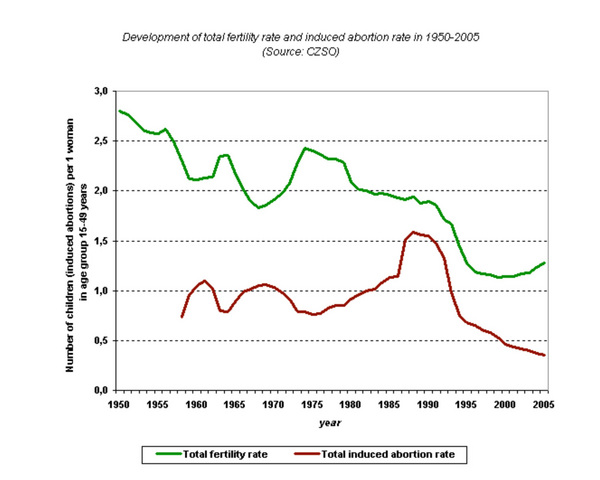 Annotation
This graph shows two trends in the Czech population (first in Czechoslovakia and after 1993 in the Czech Republic)—changes in fertility rates (births per women aged 15-49) and the abortion rate in this same population. This fairly simple graph offers a number of insights into the experiences of Czech women both during and after Communism. For instance, we see births per woman declining from a high of more than 2.75 to a low of around 1.2, followed by a slight increase in the last few years. We also see a slow but steady rise in the number of abortions per woman from the legalization of abortion in Czechoslovakia in the mid-1950s until 1989, when there is a sudden and rapid drop in both the number of births per woman and the number of induced abortions. Unlike several countries in the Communist bloc, the number of abortions per woman in Czechoslovakia did not exceed the number of births, but the two lines were approaching one another by the late 1980s.
What would explain the drop in births and the increase in abortions in the 1980s? And what would explain the rapid drop in both immediately after 1989?
In the case of the latter question, one important answer was that Czech women suddenly had access to reliable condoms and the birth control pill, both of which made it possible for them to regulate their fertility to a much greater degree. When women can control their fertility they typically have fewer children and almost always have fewer abortions (because there are fewer unplanned pregnancies).
This source is a part of the Economies in Transition in Eastern Europe, 1970-1990 teaching module.
How to Cite This Source
"Fertility and Abortion in Czechoslovakia, 1950-2005," in World History Commons, https://worldhistorycommons.org/fertility-and-abortion-czechoslovakia-1950-2005 [accessed September 27, 2023]